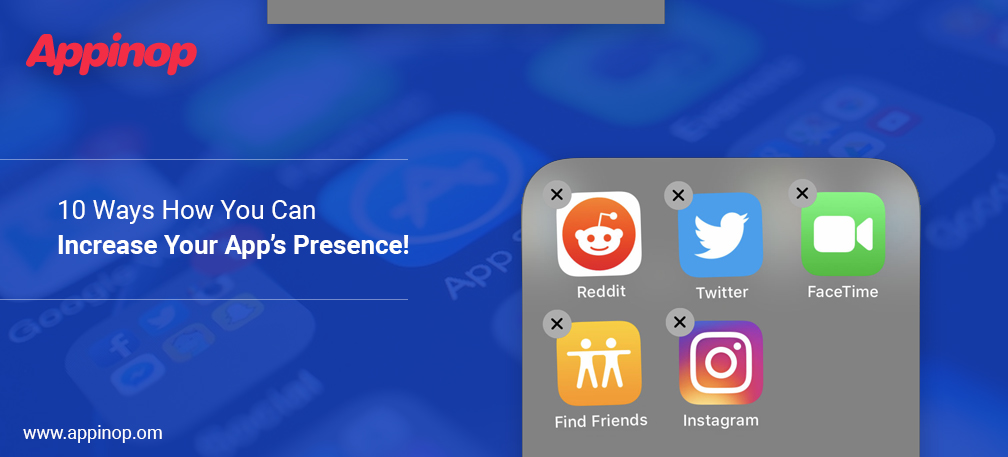 10 Ways How You Can Increase Your App's Presence!
So you have finally built your own app!
It runs smoothly in all the devices you have checked and has amazing graphics!
Congratulations!!!
But if you are also facing the problem of downloads, minimum audience reach, we have got you! Developing an app requires a lot of dedication and commitment, and when these apps don't get enough downloads, it often breaks the developer's heart.
We have curated this blog especially for the developers out there who are struggling to make their app shine in app stores. Just bear with us as we move forward in the blog, enlightening you with some ideas to increase your app reach.
App store optimization
Let's begin with the most basic and effective way to uplift your app's presence in the app stores. App store optimization is a process to increase your app's visibility in the store by optimizing each metadata element (app title, keywords, screenshots, description, etc. ) as per store and trend's best practice.
Why should we do this?
Well, ASO works similar to SEO and helps in making your app more visible in the store and increases its discoverability. It is such an effective way to improve your app's presence and doesn't even require any additional investment, yet it is still the least explored technique to improve app presence.
You can find several ASO tutorials online, free of cost.
User review
The other trick you can use is getting more user reviews for your app. This works best with the algorithms. You can ask your users to review the app as per their experience. Then, you can resolve any issues the users face. This will increase user engagement with the app, and for you, it will work fine with algorithms.
Appealing Graphics
Okay, let's admit it! Our generation is more inclined towards the things that are candy to our eyes. Why don't we use something appealing for our app's graphics as well? The idea is to create visually appealing graphics to hold users' interest in the app. Visuals are a great way to attract users towards your app.
Make users' your brand ambassador
This is an interactive way to connect with users and promote your app through them. You can give your users unique referral codes, which they can use to connect with the network and build their own chain. The referral codes can be for anything from discounts to some secret schemes or trips, you just need to be super creative while using this option.
Using Social Media
Where millennials are completely indulged in social media and are being inspired by bloggers and content creators, what can be a better way to promote your app then using social media. You can collaborate with few bloggers who are in the same niche as you are, and can connect with their audience directly. Since it is their favorite blogger promoting your brand, high chances are you will connect with them on a more personal level. This will also ensure higher user reliability on the app.
Email marketing
When the formal world has almost enroute itself towards emails, now is the time to grab it for marketing as well. You can send e-mails to your target audience with a link to download your app directly through the mail. This will help you connect directly with the people who are genuinely interested in your app.
QR codes
Before you tag us as oldies, you might want to know the importance of QR codes in the world of AI assistants. Putting your websites QR code on your visiting card, magazines, apps, social media, anywhere, will directly take the user towards your app. Just a scan through their phone and they are good to go, and this will save you from the trouble of personally reaching out to them to download the app.
Use Quora and Fluther
Such user engagement apps are the best way to promote your app. You can satisfy user queries directly on these platforms and on the other hand promote your app and its features. You can post your link directly. This will ensure a direct engagement with your users. And you never know, how much can a user help you in so many regards. Connecting with them on a personal level is always good.
Host a giveaway
This is one of the most commonly used technique by social media influencers, you can collaborate with them and host a giveaway, which will include conditions as basic as tagging friends, promoting your app or page. This will widen your reach among the people.
Demo video
Okay, you can't sell something to someone who is not even aware of what your app is for. This is where demo videos come handy. You can create a demo video showcasing how the app works, the audience it caters, and why they should download your app. But don't invest much in creating a video, this can only be used when the users are aware of your app.
These were certainly some marketing tricks we advice our clients to use. If used properly, they can work wonders. Just keep in mind while building your app to crater a niche and serve them with all you got.