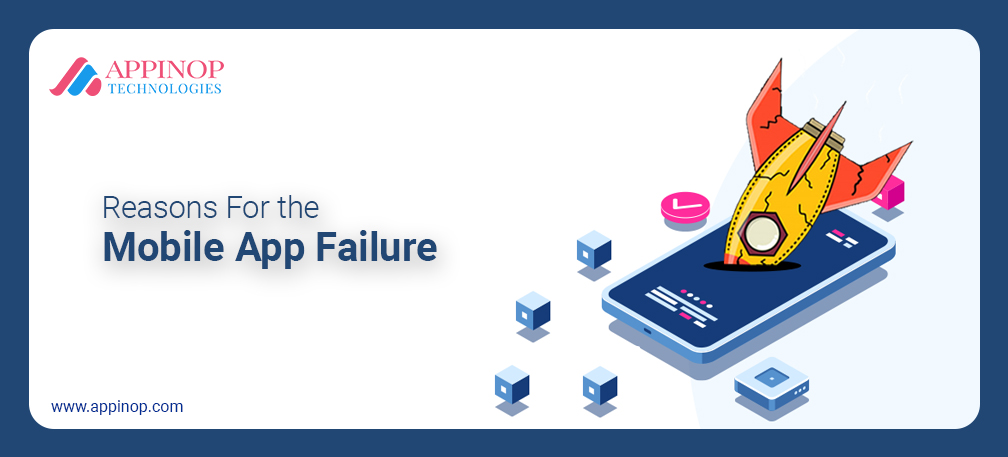 4 Key Reasons for Your Mobile App Failure
Business owners who are investing in mobile app development, their concern does not lie only on completion of the development process but they have a bigger concern as well and it is mobile app retention. If everything goes well, then its bingo for their business otherwise a nightmare!
Not all mobile apps are qualitative. In the world of smart apps, many take the back seat in the mobile app market. If you are planning to build and launch your own enterprise mobile app, then go through the below listed valid reasons for the failure of mobile apps.
Poorly Researched Market & Audience
Have you studied the market thoroughly? Have you done the competitor analysis? Have you collected data to know deep insights about your end-users?
Without knowing your customers, how will you solve their pain points?
If you have created a mobile app without proper research about the market and customer's expectations, then definitely the developed app will experience poor user retention. End users do not just want an app on their smartphone instead they want a solution to remove their pain points and make their life smooth.
Lacking Good User Experience
App usability is all about how easily users can access the features and get accustomed to the app. After all, you are building a customized app for your users only.
And if a user finds it hard to use any of the features on your app then definitely they will lose interest and in no time your app will get no place in their smartphones.
Some of the below listed poor app usability:
• High loading time
• Lengthy registration process
• Difficult to access certain features
If you are not paying the attention to the platform-specific UI/UX best practices, then you will have to bear the app failure.
Bad App Testing
Developing an app is one part of the development process and testing the app is the other. As we all know app development is not a simple thing to do. Lots of complexities are there. No doubt app developers are doing their job very well, still, they are human and can commit a mistake.
Just developing the app and launching the same, is the biggest mistake ever.
If your enterprise app isn't tested properly, then chances will be there that your app comprises of bugs which will definitely hamper the user experience. This can cause an app crashing.
Mobile app testing should be done deeply with proper documentation. Because testing is the last phase in the process of app development. Post testing, your app goes to the end-users.
A Poor Marketing Plan
After app development and testing, you are ready with your app to launch. Launching an app plays a key role in the future success of the app. And if you have not strategized your app marketing plan, then you end up losing your marketing budget, effort and to a greater extent your app success. The reason being, with an improper first impression, your app will get low downloads and poor user retention rates.
Wrapping Up
I hope you have gone through the blog thoroughly and have learned the reasons for a mobile app failure. In this digital world, a well-developed mobile app for your business can help you in building a strong online presence with larger customer base. So, make sure you take note of such mistakes while developing a mobile app for your enterprise.
So, if you have any questions related to mobile app development, you can connect with our experts. Our team is capable of handling the mobile app development project of all sizes and complexity. We will be helping you out in settling down all your queries.