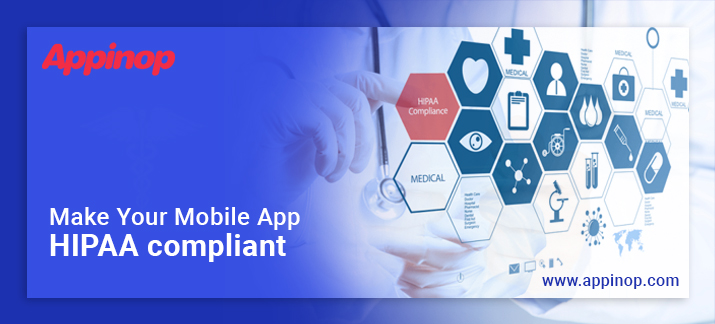 6 Key Tips to Build your Mobile App HIPAA Compliant
A lot of healthcare mobile apps are introducing by the mobile development industry in the market over the last few years. According to reports up to 2017, more than 3lakh healthcare apps are available on various app stores. As we all know, patient's sensitive information is stored in these apps, so, it should be secure and authentic.
The app developer can make these Healthcare apps a bit more secure and prevent loss of confidential data. For high-end security, mobile health apps should comply with the HIPAA, Act. The full form of HIPAA is the Health Insurance Portability and Accountability Act which basically protects and maintains the privacy of medical records.
Let's check-out the essential tips that can easily build your healthcare app which is HIPAA compliant.
1. Encrypt Device Data in Stronger Way
If your mobile app is compiled with HIPAA then it strictly secures all the data collected on the device. All the data is automatically encrypted with the help of this feature. It has done encryption on two-level. In the first level, it protects data that is temporarily stored on the device. In the second level, it secures data that is sent over the network. In short, it provides high-end security to your mobile app.
2. Adopt a Unique User Authentication Process
Strong authentication is necessary for the overall security of the apps. Password protection is the most common way of authentication but you can only protect your sensitive data with the help of a strong password. No one can able to access your data if you are using a unique password and user ID.
3. Apps should be automatically Log-out
Your Personal Health Information (PHI) will be easily accessible to anyone if you forgot to log out from an app and your mobile is lost. Your valuable information will be leaked, when you share your mobile. But, HIPPA compliant mobile app is free from such issues.
4. Update Your App Regularly
This is the best way to protect your app from malware. The upgraded app provides security against bugs. The updated version fixes bugs to some extent and alerts the users regarding the upcoming threat.
5. Must Ensure Automatic Syncing and Backup of Data
The HIPAA-enabled app will secure all the data stored on the mobile device. Data should be transmitted to the server in a secure way. Automatic syncing and will enable when your device comes within a safe network range. You can easily keep your data safe by creating a backup of it.
6. Add Remote Wipe Feature
This feature can control and manage your data in a better way. With the help of this feature, the admin of the app will able to access and erase your personal information when your device is lost. It prevents the misuse of mobile data and provides safety to your PHI.
Final Thoughts
You can follow these tips for developing your mobile app HIPAA compliant. A mobile app designed on the basis of the above tips always protects your personal information. These apps are a bit expensive but security is more essential then price.