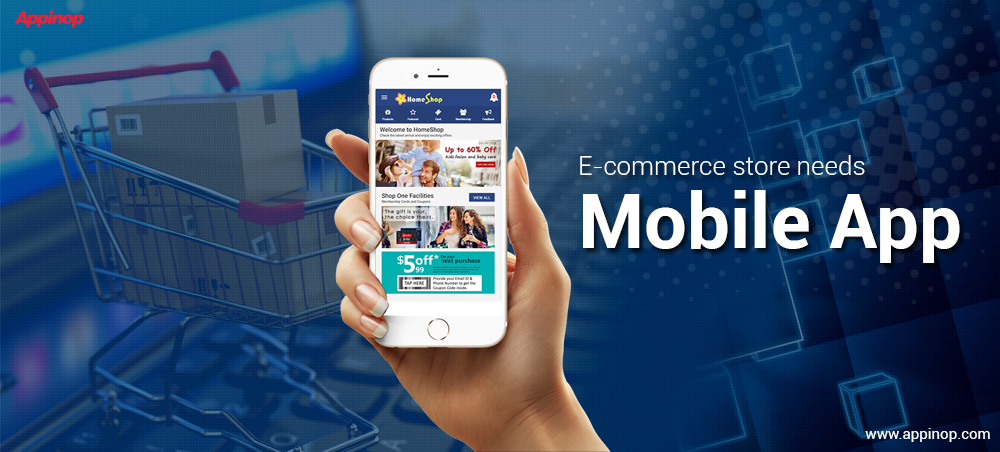 6 Valid Reasons: Why E-commerce Store Needs Mobile App
In the era of internet, E-commerce business is in growing demand. Make one more move by developing a mobile app for your e-commerce store, as customers are switching from desktop websites to mobile apps. Grab this opportunity to increase your sales and boost your e-commerce brand.
We have summed up some valid reasons for making your E-store into M-store by developing smart and user-friendly mobile apps for your e-commerce business.
1. Shoppers prefer apps over a web browser
Customer prefers to access the store via mobile apps over a mobile website and desktop website. There is no doubt in a customer's mind about using apps for an e-commerce store.
For a new shopper, two big things-URL and credentials are a tough job to remember. That's why starters prefer apps for easy shopping.
2. Increased Conversion rate
The benefits of a mobile app development such as easy navigation and usability lead to high conversion rates.  Criteo, the leading commerce marketing technology company's latest report said that the power of shopping apps to drive significantly higher conversion rates and sales on mobile devices.
In North America, retailers with a shopping app now generate 67 percent of all e-commerce sales on mobile devices. The conversion rate for shopping apps was 21%, more than three times higher than the standard 6% conversion rate seen on the mobile web.
Mobile apps account now for 44% of e-commerce transactions in North America as compared to 33% and 23% for desktop and mobile web, respectively. On a global basis, year-over-year, mobile apps have seen their share of transactions grow by nearly 50%.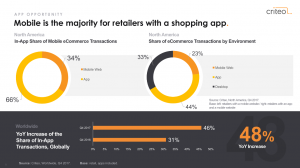 Image Courtesy: Criteo
As a result, e-commerce app conversion rates are much higher than for mobile websites and for desktop sites.
3. Increase in Loyal customer
Customers who all download and install an app in their smartphones are more likely to shop from your online store. While desktop and mobile website customers spend time gathering information and relatively less possibility to buy items from an online store.
Personalization-Track and save your customer's buying data. This makes easy for you to know your customer and provide them recommend items as per customer relevant searches.
Rewards system-You can engage your users to keep coming to you by implementing a loyalty program. Apps have a feature to add loyalty points to your loyal and regular customers.
Advanced support-Customer support helps in building a customer relationship. Mobile apps have features such as live chat or bots for providing 24/7 customer support.
4. Higher response time
In today's internet era customer believes speed is utmost important. No one wants to waste time for any online ordering process. Mobile Apps require lesser time to complete a task than a website because applications store their data partially on a mobile device.
5. Lower Shopping cart abandonment rate
One of the major reasons why e-commerce store needs a mobile app. Desktop website or even a mobile website has a high cart abandonment rate. But you can also significantly reduce the number of customers who leave by creating an e-commerce app. A mobile app has comparatively lower cart abandonment rate owing to the easy checkout process.
6. Higher order value
We have listed some of the deciding factors for higher order value:
Push notifications- This feature notifies users about sales and special offers about your items. Even this feature notifies about items back in stock which was earlier displaying as out of stock to the customers. Notifications help your customers to remember your brand.
One-click ordering-When you place your first order and enter a payment method and shipping address, 1-Click ordering is automatically enabled.
Thereafter every buy is one click away. When you click Buy now with 1-Click on any product page, your order will be automatically charged to the payment method and shipped to the address associated with your 1-Click settings. This makes checkout easier. This works well for existing customers who are familiar with your store's process and won't hesitate to buy from you.
Easy payment-These mobile apps have easy payment feature to add customer's payment card details one time. It gives your customers the opportunity to choose payment methods. No need to enter information about your card every time you checkout. This makes transactions much faster.
Closing Words
Hope you have got the valid reasons for developing a mobile app for your e-commerce store. A mobile app will definitely make your store much more customers centric. Appinop technologies has a dedicated mobile app development team who works on cutting-edge technologies to deliver quality E-commerce mobile apps for clients at a reasonable cost. Feel free to connect with us and share your project idea with our consultants and experts so that your idea gets a life.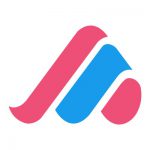 Appinop Technologies
We are a closely knitted bunch of thinkers, designers, developers and investors who are committed to transform the user experience by inventing and reinventing techniques that return high user engagement and increase share ability. Be it Android or iOS Mobile App or an Ecommerce portal, we strive to deliver only the best even if it takes repeated revisions.