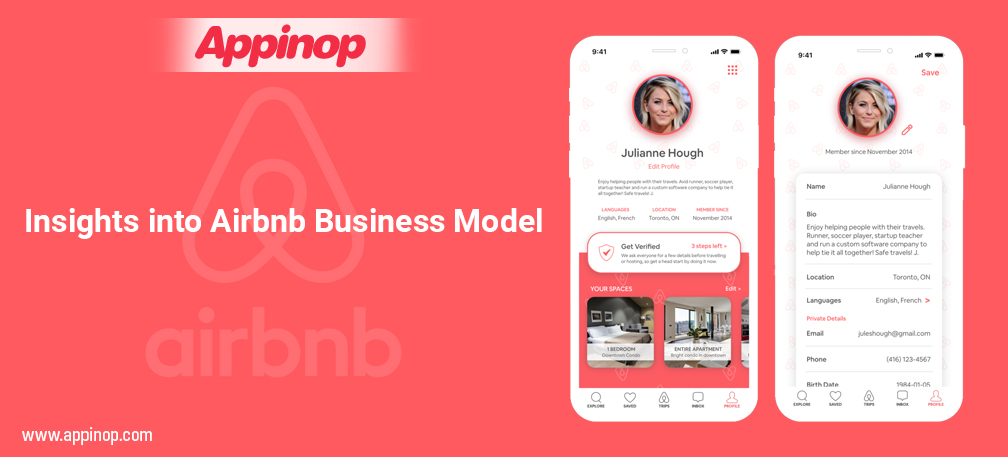 Airbnb: Business Insights
On-demand app solutions have transformed several industry verticals in today's digital era, including the travel and hospitality industry. That's the reasons why firms like Airbnb are getting wings to fly high with such a big valuation in a little timespan. Or you can think why apps like Airbnb are so much popular worldwide!
Let's dive into the business model of Airbnb! Before jumping directly into the business model, have a brief introduction about Airbnb.
What is Airbnb?
"Airbnb describes itself as an online marketplace for providing great homestay experiences to the people worldwide."
Airbnb is a travel and Hospitality application that provides an online platform for property owner and traveler. It offers a tempting rental solution across the globe for the property owner and people searching for temporary basis accommodation.
Airbnb is an innovative digital platform serving as an interactive environment for 'hosts', people who get extra earnings by renting out their property to 'guests', people who are seeking for less expensive accommodation to book in order to enhance their traveling experiences and of course getting an opportunity to interact with locals. This online platform which operates in over 190 countries worldwide is truly a Win-Win for both the parties.
How does Airbnb App work?
Airbnb App operates on these easy five steps:
#Step1:
The hosts list their properties along with the other necessary facilities such as WiFi, meals, number of bedrooms, etc. on the Airbnb website.
#Step 2:
Then Airbnb sends in-house or freelance photographers to click HD photographs of the location and thereafter these photographs are uploaded on the website.
#Step 3:
Guests then browse on Airbnb and select their appropriate property to stay at. They can further select dates, a number of days to stay and number of guests before making payments.
#Step 4:
Then host makes approval for the booking and thereafter payment is made which includes some extra charges.
#Step 5:
Once the stay is over, the host is paid by Airbnb after deducting the commission fee.
Business Model of Airbnb
Airbnb works on an aggregator business model just like Ola and Uber. It runs the business via an online platform that aggregates each component in the model and generates its revenue from the guests and the hosts who are the main components in the business process.
Airbnb acts as an online platform for hosts and guests. Hosts can rent their property to the guests for stay, and the hosts earn money in exchange. The travelers or guests who stay at Airbnb, experience the vibe of a home by staying close to the locals.
Airbnb has in-house photographers and freelance photographers who click HD shots of the host properties which helps the guest to book their accommodation.
Value Proposition of Airbnb App
Till this we have acquainted with what Airbnb is all about and how does it operate? Now let's have a quick look at Airbnb App value proposition:
Hosts:
• Hosts are the people who list their properties on Airbnb website which, if booked, would give hosts rent in exchange.
• Hosts have the authority to accept/reject booking request of the guests or travelers by looking at the reviews of peer hosts.
• They would property listing with the facilities they would be offering along with the rent, check-in and check-out time.
Guests:
• Guests or Travelers are those users who make a booking of the home from hosts on rent.
• They have a wide range of options to filter the search as per their requirements. They can filter the searching such as the rent amount, basic amenities they will require and the number of guests to accommodate.
• After choosing the accommodation and post-booking approval, they can make payment online.
Photographers:
• As Airbnb business model operates on physical spaces which the guests or Airbnb itself couldn't reach themselves, so it picks freelance photographers to click high definition pictures of the host properties.
• The best quality images that help in making the most bookings are paid by Airbnb.
Revenue Model for Airbnb App
The revenue model of Airbnb consists of a fee that is charged from the hosts and the guests. The Airbnb revenue model operates on the property listings by hosts and the booking made by guests to stay.
Airbnb App revenue comes from two major sources:
• Commission charge from hosts
Each time a guest selects a host's property and makes a payment, Airbnb charges 10% of the paid amount by guest as commission. This is the first source of revenue for Airbnb.
• Booking transaction fee from guests
When guests make payment for their accommodation, they are charged a 3% transaction fee. This is the second source of revenue that adds to the Airbnb revenue.
Closing Words
Hope you have got the business insights for Airbnb. Well, if you are planning to digitize your hospitality business then Appinop is there to help you out in developing custom travel & hospitality app like Airbnb within the scheduled budget.