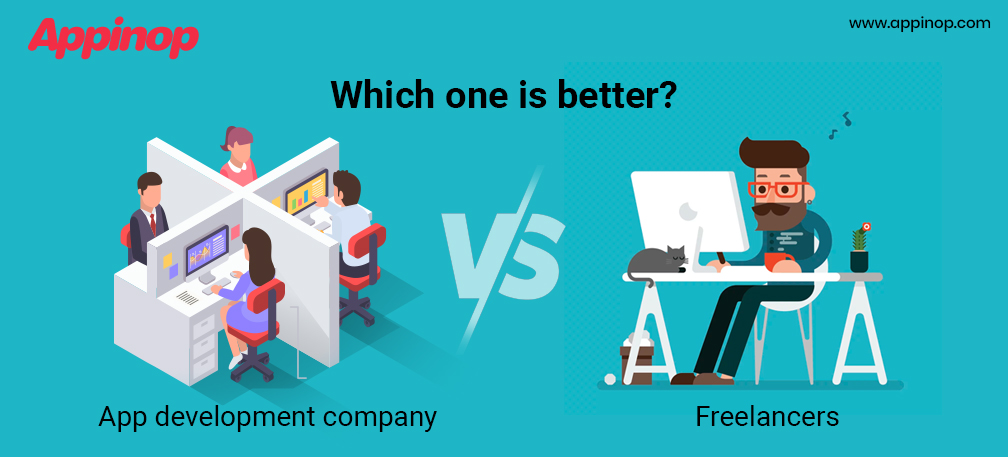 App Developers or Freelancers, Which One is Better?
With the world becoming one big market of creators, almost everyone out there is offering something. And in this scenario lies one big question, whom to opt for, freelancers or app developers? Well, we are here to help you out with this dilemma.
But before answering this question let's clarify the meaning of the two.
Freelancers:
A freelancer is a term used for people who are self-employed and is not committed to a particular employer for a long time. They have a specific set of skills to market and attract potential clients towards them.
App developers or companies:
These are firms with working professionals. They have a dedicated team of app developers in almost all the fields.
Now that we know the difference between the two, let's find out which one is better for your assignment.
Below are a few pointers to help you get a clear picture.
Pros of hiring a freelancer:
Cost Determination:
The biggest pointer in favor of freelancers. They cost you lesser than app developers. And hence are a much more pocket-friendly option. They just charge you for the work they have done and no other expenses.
Communication:
Since it is just one person you have to stay in contact with, communication gets much more easier with freelancers. All you have to do is convey your idea to one specific person and you are good to go.
Flexibility:
Since freelancers are one-man army, they are pretty flexible with timings and can work as per your timings even at odd time zones.
Swiftness:
Freelancers don't need to rely on someone else for the work, the pretty much do everything on their own and hence deliver faster results. And saves your time.
So many pros! We are sure you must have made up your mind to hire a freelancer for your project. But but but before jumping onto the conclusion, don't you want to know the cons of a freelancer? Not every coin has heads only. Here are the cons to help you reach a judgment.
Cons of Hiring a Freelancer:
Availability:
Freelancers generally have other things going on the side and hence they cannot be always available as per your timings. Availability becomes a major issue.
Dependability:
Freelancers don't work under anyone and hence are not answerable to anyone which reduces their accountability towards clients.
Confidentiality:
Data confidentiality is paramount in the IT industry and hence demands utmost attention. While freelancers try to protect your data, they sometimes as well join their hands with your competitors, hence risking your data.
Further Maintenance:
The role of freelancers generally ends with the completion of the project and hence they don't provide maintenance and support for your app.
Trends:
Freelancers are not generally up with the trend and cannot deliver world-class results for your project.
Single Expertise:
A single person cannot have expertise in all the fields. And hence a freelancer lacks the specialization required. You need to hire other expert help in order to get the desired results.
Now that we have discussed freelancers and how they work, It's time to know about app development agencies. Let us first see the pros of app developers.
Pros of App Developers:
Collective expertise:
Since app developers are a group of people, they often have the needed specialization excelling in one field or another. And it hence saves you from the trouble of looking for experts.
Continuous support:
App developers continue to provide post-development service if in case you face any issues. Hence helps you in maintaining your applications.
In-house developers:
They have developers working with them and hence they don't need to look anywhere else for the experts.
World-class product:
These developers are up to date with the latest trends and hence provide you with world-class products with expertise.
This was just one color of the deck. But this cannot be it. So let's look at the other side as well.
Cons of App Developers:
Affordability:
In comparison to freelancers, app developers are an expensive option. They don't just charge for the work done but also add their other non-operating expenses.
Communication:
Since a team of experts is working on your project, communication gets a little difficult, simply because now you have to contact with a group of people instead of an individual.
Flexibility:
Since these are firms, experts working there have their time slots to work on and hence they cannot be available around the clock. This proves to be a hurdle when you need their assistance at odd hours.
Since the above discussion gives a clear picture of the pros and cons of both options, the final decision lies on your shoulder. There is no thumb rule on deciding which option to go for, while one is ideal for a particular situation, the other one is suitable for a different situation. This all depends on the project and its specifications and also on your time availability.