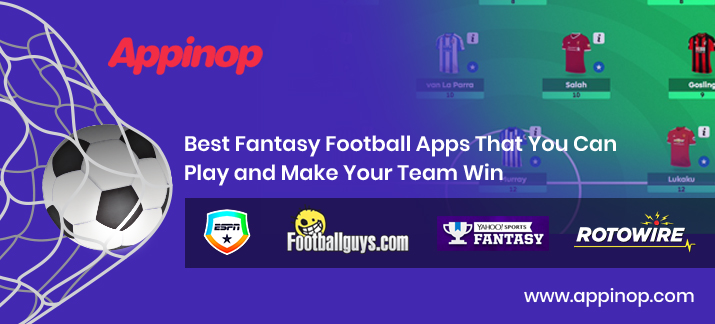 Best Fantasy Football Apps That You Can Play and Make Your Team Win
Are you a sports freak?
If yes, you have definitely attempted the fantasy sports application for your team to win. Those who love football most, have many fantasy sports applications to play and enjoy the game.
Today, the market of fantasy apps are increasing at such a huge pace that most of the businesses are working on fantasy sports application development.
But for the football freaks, there are a few fantasy sports apps which are beloved by most of the users and are considered to be the best. Here we will consider the list of best app that you can play to enjoy the game and make your team win.
ESPN Fantasy Sports:
This app is developed by the team of ESPN and is one of the most popular football applications. In terms of popularity, it stands next to Yahoo that makes it even more interesting to play. This game is not limited to football, instead, you can play hockey and basketball. Here you can either play with your friends or can join the existing league to make your own team and win the game. The application is marked free in Android as well as iPhone store.
RotoWire Draft Kit:
Similar to ESPN Fantasy Sports, the RotoWire draft kit is also a popular fantasy sports application solution which you can play online. Apart from football, you can play baseball and basketball on this application. Currently, this fantasy app is only available for iPhone users. However, to play this game you need to pay a small amount of $4.99. In the Apple store, this fantasy app has earned 4.8 reviews out of 5 which make it really competitive and one of the best fantasy football sports applications.
 Footballguys Draft Dominator:
For those who are serious about playing football can consider Draft Dominator. You have wide options to use in this application. You can create your own league which you can even review with the inbuilt Rate My Team system. The application has even provided the ranking system for each player that makes it convenient to select the right player as per your likings and necessity. Along with the game, the detailed information about player updates, newsletters, cheatsheets, rankings, etc is also integrated to keep you updated. To play this game you need to spend $5.
Yahoo Fantasy Sports:
As the name of the brand is associated, it is number 1 rated fantasy sports app solution in the Google Play store. This app allows you to play Football, Hockey, baseball, Basketball and a few other games. Similar to other apps, it also allows you to create your own team and set its line-up as per the rating. You need to pay $5 to play this game.
Closing Words
So, these are some of the football fantasy sports apps where you can create your own league and play with them. You can even play with your partner and win the match. The market of fantasy sports app has increased with a leap of 60% over the last 4 years. Hence it's going to boom further in the future.
Appinop is the leading fantasy sports app development company, team up with us to avail a plethora of fantasy sports solutions at a reasonable price within an agreed time frame. Connect with our fantasy sports experts and share your project details.