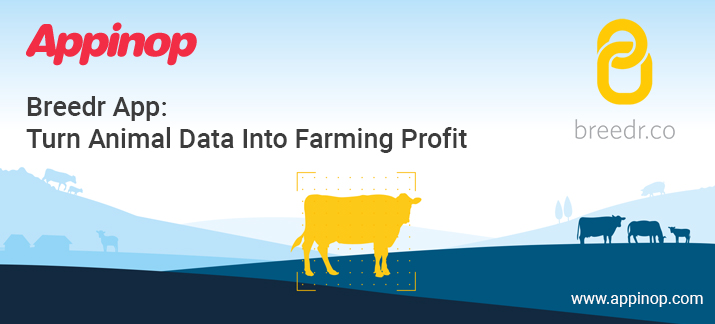 Breedr App- Bring a Revolution to Livestock Industry
Earlier it was really hard for the farmers who want to track each and every animal on their farm and takes care of productivity.  The main reason why farmers were not involved in the market was that they have the least opportunities to understand their own animals and their capabilities.
But Breedr app comes out as the best app development solution for your farmers that help the farmers to track each and every animal and connect with the supply chain with transparency. The application is built to track each and every animal on your farm along with all the associated information related to your animals.
How does it work?
The farmers who want to take control of their animals can easily use this application. The app is hence build to keep track of all the medical details, historical data and other health information about the animal.
You can easily add an animal that you include to your list or even remove it once you sell/transfer the animal.
When you sell your animal, it's important to move the animal to a new owner. This option is also made available in the application.
There are different types of animal tags that you can use to connect with this app and collect the data.
To make this app work for you, it's important to install an EID Tag that can digitally transfer its information to your application.
Check Your Sales: This is the biggest trait of using this application. It allows the farmers to track all the sales, growth and other associated information. This gives clear details about your profit and the list of animals you are currently retaining in your farm.
The analysis software added to this app helps you get better visualization about the right time to sell any animal that can offer a good profit.
Important Questions associated with the Breedr App:
How to Signup: Currently the developers have not associated the signup option. They have been testing the application in South and South-West England. However, if you want to be its part, you can get in touch with them via email.
How to Import Existing Information: Well, there is an option to import the complete possible details that allow you to import the details (animal ID, weights, etc) through an excel file.
How to Transfer Animals Information: This is the biggest issue that most of you might face. The app has been made easy for the farmers who want to transfer the animal from one person to another. If the animal isn't listed earlier, you can even add it later with additional details.
Final Thoughts
In short, it is one of the revolutionary applications that gives you the opportunity to track your animals and sell/purchase them to make the high-profit count.
If you face an issue in any sort of aspect, you can take assistance from the developers through email or contact us form. The more you use this application; the better will be your farm profit through data evaluation.
Appinop Technologies
We are a closely knitted bunch of thinkers, designers, developers and investors who are committed to transform the user experience by inventing and reinventing techniques that return high user engagement and increase share ability. Be it Android or iOS Mobile App or an Ecommerce portal, we strive to deliver only the best even if it takes repeated revisions.