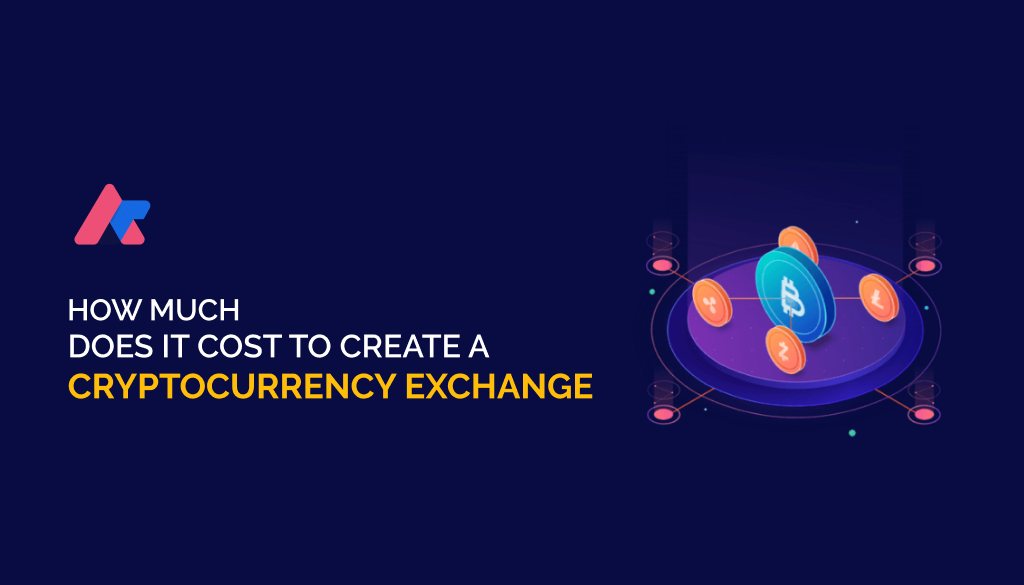 How Much Does it Cost to Create a Cryptocurrency Exchange in 2022?
Starting a project and establishing it as a successful venture in the market calls for careful understanding of the opportunities and implementing the right actions at the right time!
The same thing applies when it comes to creating a cryptocurrency exchange platform from scratch. While developing the plan, the cost you would incur for the project plays a decisive role throughout the journey. Due to the major importance it holds, it becomes even necessary to go into depth and understand every aspect that can have a direct or indirect influence on your cryptocurrency exchange project.
In this blog, we will take a look at various aspects of how you can take care of the costs you need to allocate to launch your cryptocurrency exchange venture.
But before we move on with our discussion, let us first go back to the basic definition of a cryptocurrency exchange for a quick revision!
Also Read: How to create a crypocurrency exchange like Coinbase?
What is a Cryptocurrency Exchange Platform?
A cryptocurrency exchange is a platform that allows the users to deal in cryptocurrency for various categories of assets including virtual and fiat currencies. These platforms act as a link between the buyer and the seller so that both parties can and via transaction fees and commission included. Thus, cryptocurrency exchanges play an important role in enabling users to interact and trade in cryptocurrencies on the blockchain platform.
Which Areas of Development Need Your Maximum Focus?
Now that we are familiar with the concept of a cryptocurrency exchange platform, let us now come to the main topic of our discussion. 
When you start with the initial processing and planning for your crypto exchange project, one of the key focuses should be to focus on the major areas of development. The main reason why it is important is that these development areas serve as the pillars of your platform. And thus, it is necessary to focus on these key areas to ensure that you do not miss out on the basics!
"First impression is the last impression"
We all have heard this saying at some point. What it essentially implies is that the first impression can be a major disaster factor in any given case. The same principle applies here.
The front end for any platform is what the users see. If the front end of your crypto exchange platform does not look interesting and intuitive to the users, they might easily lose interest. They might even not wish to come back to the platform if there is nothing that interests them. Thus, hiring the best front end developers and allocating sufficient funds for your cryptocurrency exchange platform should be a priority. It will ensure that your visitors spend enough time on your platform.
Similar to the concept of front end development, backend development also plays an important role in determining the overall cost of your project. While the front end development is made for the users, the backend development is for the platform servers. It includes the entire functioning of your platform which means that it is necessary to put in all the necessary resources to make it work well.
While it usually costs between $40000 to $50000 for a medium scale project, the backend development for your platform may depend on the mechanics you prefer to deploy during the initial stages. The total cost required to build the backend development of your platform will also depend on the initial capital you will invest. 
Since the respective two factors are closely associated, we would recommend you to perform some preliminary examinations before initiating the development project. Therefore, it is important to channel the funds carefully while examining the requirements for the backend development of your platform. After all, it is one of the most crucial aspects of your platform where a significant portion of the development time and funds will go. 
The next major area of development that needs your equal attention is the integration of APIs with cryptocurrency exchange development platforms. 
API, which stands for application programming interfaces is a mechanism that facilitates seamless connectivity to automate the functions of your platform. It enhances sharing of data between multiple applications and systems. These are also responsible for conducting logic-oriented operations and managing the internal functioning of your cryptocurrency exchange application or website. Thus, it is a crucial aspect of the crypto exchange development process. 
The standard cost required for this particular area may range between $40000 to $70000. However, the same may depend on the scale of your project and the allocation of funds for other areas of the development.
As we all know, blockchain development is as important as building a crypto exchange platform. What basically links the two concepts is that integrating blockchain technology can help to facilitate a fully functional trading platform.
However, it is also extremely important to know that the cost included in blockchain integration depends on the type of cryptocurrency development services you will prefer for the same. Usually, it costs around $5000 to $10000 for most of the small or mid-level projects. However, the same may differ in your case depending on the initial development requirements. 
Initial testing and platform security 
Now that you have every essential component of development in place, it is necessary to test the performance of your platform and check for its security. It is required to ensure that your platform is working fine. It is also necessary to ensure that your platform has everything perfectly in place from the UI/UX to basic mechanism change functionalities. 
Also, initial testing and platform security tests are necessary to ensure that your platform does not contain any bugs or technical errors. It can considerably affect the user experience on your platform. 
The estimated cost for testing for security purposes may stand around $20000 to $30000. Thus, you can adopt either a manual or automated mechanism for testing purposes to ensure that your platform is free from bugs.
Also Read: Steps To Launch Your White Label Cryptocurrency Exchange
Which Factors are Likely to Affect theDevelopment Cost?
Right from the first stage to the final launch of your platform, you will need sufficient capital and additional funds to provide the project with enough resources. Therefore, while drafting an outline of the total cost required to build your crypto exchange, it is also necessary to consider the factors that directly influence it. 
Here are some of the most important factors that will directly influence the overall development cost of your project. Let us now comprehend these factors.
Structure of crypto exchange
The type of crypto exchange you are looking forward to building can also affect its overall development cost. Since each type of crypto exchange platform requires a different cost model, choosing an ideal crypto exchange for your business plan is a decision that should be taken carefully. 
You can either choose to go with the decentralised or centralised crypto exchange model. Alternatively, you can also go with a hybrid crypto exchange, peer to peer crypto exchange, advertisement based crypto exchange, or orders book crypto exchange. 
Other major factors that can significantly affect development costs for your crypto exchange business are the budget and time required to build it. Therefore, it is important to know the time of period you would need to build up a cryptocurrency trading platform from scratch to end. For instance, if you are looking forward to building an exchange platform in a short period, the costs will be significantly higher.
Moreover, it is also necessary to have a flexible budget and strength and financial support while launching your own crypto exchange business. The capital requirements during the initial development stages may or may not suffice. Also, it is necessary to integrate plans for your crypto exchange into the existing budget to plan. 
For instance, if you face major technical difficulties during the initial development stage of your platform, it may require significant costs to repair the same. Thus, budget and time constraints play an important role in deciding the amount of cost to deploy in the project. 
Payment processing method
The next major factor capable of influencing the cost is the payment processing method. You would wish to have the standard pigment processing service for your platform to be able to compete with other brands in the market. 
However, you must ensure that the payment processing system you choose for your platform must comply with the necessary standards to protect you from cyber-attacks. The main takeaway here is that the leading payment processing setups will offer you numerous benefits but it may also impact your budget. So, choose wisely!
As of now, many major countries are imposing high charges for or issuing licenses required for running a crypto exchange business. However, we definitely have a few exceptions in this category where the license registration fee is comparatively much lower. Therefore, we would recommend you to discuss the same with your prospective crypto exchange solution provider regarding the best possible option that requires a lower fee.
Integrating high-security mechanisms
One thing that might have got established at this point is that every advancement/benefit for your project is likely to cost you something. No matter if it is the time frame required to build your project or the budget for it, everything would come at a cost.
The same thing goes with implementing high-security mechanisms at your crypto exchange platform. While a few businesses neglect the security mechanism while building a crypto exchange platform, they do not realise what they are compromising. Ignoring the importance of having a high-security mechanism on your platform is one of the worst mistakes you can make concerning the security aspect!
Mechanisms such as encrypted databases, and two-factor authentication add more security to your platform. As you might have noticed, cryptocurrency exchange platforms have been among the most common targets of cyber attacks in recent years. Therefore, adding an extra layer of safety and security to your platform gets even more important.
But does it come at a cost?
Honestly, yes it does. You may have to extend your budget to execute these tools on your platform. But it is better to look on the positive side of the aspect as your platform will have all the must-have security features to protect itself from any possible cyber attack. 
Networking with other exchanges in the market
Last but not the least, the budget and other resources needed to network with other exchange platforms in the market also plays an important role here. 
Think about it to yourself. As you launch your newly built crypto exchange platform, is it desirable to have a situation where your users cannot find an order book and trading activity? The most apparent outcome here would be that your target users will not find the platform interesting or worthy of their time.
Also Read: Crypto Trading Bot- A Potential Game-Changer For A Crypto Exchange Platform
Thus, it is necessary to become a part of the community and partner with other major crypto exchanges to enhance your liquidity. However, you must also know that improving the liquidity of your platform will require extra development work and funds. Hence, you must make a balanced decision here. 
How Does Appinop Help?
As your partner in building a cryptocurrency exchange platform, we offer various custom services in the blockchain domain.
Hustling since the last several years in the business, having 440 + projects completed, and serving 250 + clients across the globe, we have been successfully enabling businesses to achieve their objectives. With an aim to help our clients with any cryptocurrency or blockchain-related business aspect they need assistance in, we ensure that your expectations from us never go in vain!
Be it a cryptocurrency exchange software development project or NFT marketplace development, Appinop is the one-stop destination for all the assistance and expertise you need. Just let us know your concern and you will get all the assistance you need to develop and launch your business projects!
So, what are you waiting for?
Mail your query or give us a call to get started today!
Let's build legacies together!