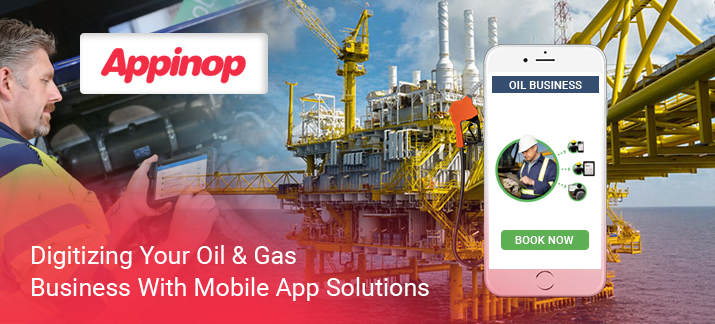 Digitizing Your Oil & Gas Business with Mobile App Solutions
In the era of the smart digital world, where every industry is taking a giant leap to transform into a digital industry. Mobile apps are not only enhancing productivity but also helping oil and gas companies to lower operational costs.
But you would be thinking of how the mobile app development helping oil & gas professionals.
In this blog, we would be discussing different types of mobile apps that would assist your oil and gas business in reshaping completely.
Health & Safety App
Safety first is the motto for all, irrespective of industries. The safety mobile apps assist in addressing safety issues. On-field employees can share the safety incident report in video and image format using the app with concern team. By the help of the health & safety apps, you can save the lives of your valuable employees and secure your industry investments. The apps comprise of features such as providing consistent real-time data, synchronizing data with mobile devices for report sharing, managing audits for risk assessments and many more.
Operational Analysis & Calculation App
Data Analysis and calculations are one of the major tasks for the employees in an oil & gas industry. The calculation app helps employees to do large complex calculations and data analysis accurately on their devices while on the field. The calculator apps contain all ASTM tables, LPG/NGL tables, automatic rounding off feature, blending and conversion features and many more.
Project Management App
Oil and Gas Project Management apps are developed to help your Oil and Gas industry business by optimizing the resources, track capital investments & production activities and look for new opportunities. You can integrate the app with oil and gas asset management, back office, accounting, and many more departments.
Instant Communication App
The messaging apps assist your on-field employees to connect with each other at any time and from anywhere. The communication apps are a boon during an emergency and critical events when your employees need to get connected and share the relevant event information instantly. These sort of apps support a range of features including group messaging, document sharing, HD video conferencing with just a few finger taps.
Closing Words
Mobile apps are digitizing the oil business and bringing a big transformation. These custom mobile and web app development services are enhancing productivity and providing great assistance to the oil and gas professionals.
The oil and gas professionals are approaching business problems in a smarter way with these smart mobile based solutions.
Are you looking for mobile app development solutions for your oil and gas business? Give a full stop to your search. Get connected with Appinop, the leading mobile and web app development firm which caters all your business needs.