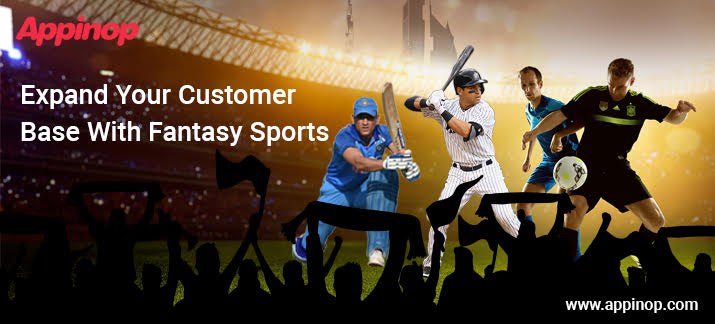 How Fantasy Sports platforms can Exponentially Increase Your Customer Base?
The Fantasy sports industry is just getting bigger and bigger every year. We wouldn't be wrong if we say this online platform is the second living space for many people on this universe. People love this fantasy world to live their life to their fullest. In the digital era, fantasy sports apps are captivating fans and encouraging sports lovers to connect.
In this blog, we would tell you how fantasy sports platforms help in increasing customer engagement.
Let's take up the below different ways to engage your customers with your brand.
Captivate your Customer with Content
In the era of the internet, on average, users spend their 4-5 hours on smartphones daily. These numerals depict that smartphones are part of people's lifestyle. People love to know about the latest updates and trending news happening around them.
As we say content is king, you can provide captivating contents on different fantasy sports and their platforms including current news on teams & players, latest trends, blogs, infographics, HD images videos clips, podcasts and so on.
Social Media Platforms
Social media is the second home for everyone in today's digital era. A platform where we all share a common place to hang out virtually. There are multiple platforms that serve a common place where everyone can connect with each other and share their thoughts and feelings.
This is a great platform where your fantasy sports app development service would get hype and definitely expand your customer base.
You can set up polls and contests on fantasy sports teams and players which is a great way to engage your customers and increase your customer base. But make sure your polls and questions should be relevant to fantasy sports.
And you need to keep some goodies as well for the contest and poll winners because, without any exciting outcome, number of user engagement would certainly be low.
These kinds of exciting polls help you in the following ways:
Boost Online brand interaction: 
These polls and contests help a customer to make connections with your brand and provoke your users to take the first step to reach out and interact with your brand.
Email list: 
You can put social media polls by asking users to register with email id in order to play the polling contest. This would help in collecting email id of users which you can further use those email ids for email marketing.
Brand awareness: 
If your social media polls and contests are full of fun and excitement then definitely users would share those exciting polling contests experience with their peers. This mouth of the word would assist in brand awareness as more and more online users would know about your brand.
YouTube Fantasy Sports Page
We all believe humans get connected easily with video-based content. So, you can provide valuable content including Sports expert's live chat, subject matter expert's talks, pre-match analysis videos and many more on your YouTube page for fantasy sports followers.
The valuable advice helps them to play fantasy sports in a better way and it helps you to increase your customer base as more and more users would connect with your brand.
Data Analytics Add-on
Fantasy sport is a data-rich platform where tons of data are generated. The only thing is that you need to harness the data to get meaningful insights for making any right decision.
These fantasy sports mobile app development services are integrated with analytics features where you can collect real-time data about ongoing matches including teams, players, field conditions and lots more.
And you can also predict user's buying behavior and engagement. These data insights assist your brand in knowing your customers in depth which ultimately increases your customer base.
Closing Words
The Fantasy sports industry is increasing by leaps and bounds and this is the apt time to invest in this industry. Fantasy sports platform will be a game changer for your brand. In the internet era, fantasy sports platform helps you to reach out to a larger number of users. So, are you looking for fantasy sports app development solutions? If yes, Appinop is there to help you out.
We have a specialized technical workforce for offering fantasy sports services worldwide. Connect with us and share your fantasy sports project idea with our subject matter experts.