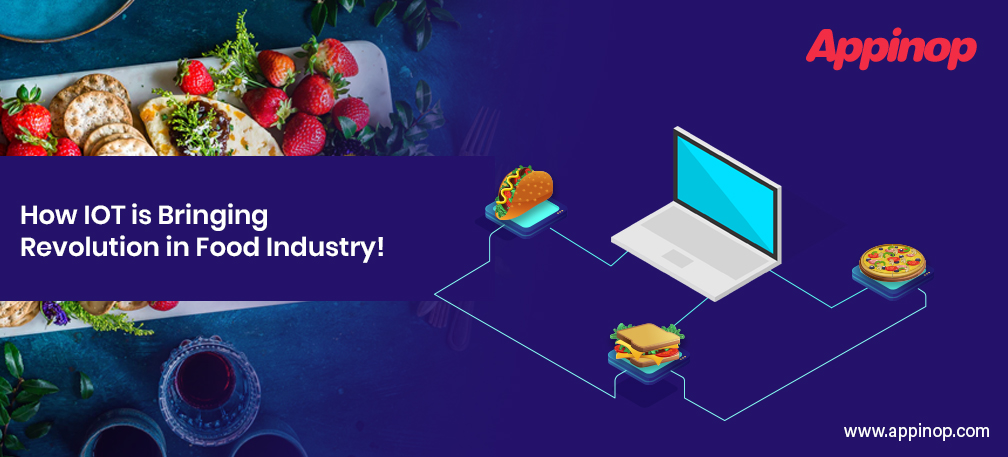 How IOT is Bringing Revolution in Food Industry!
Around 1.3 billion tons of food gets wasted around the world every year, which is 1/3rd of the total food requirements around the globe. And the monetary losses for the same amount to $680 billion in developed countries and $310 billion in the developing country and this happens majorly due to lack of coordination among supply chains around the world.  To deal with such wastage and manage them around, food industry is opting for options like IOT.
If you are still unsure what IOT is, and how is it assisting the food industry, don't worry! We have got your back. We are going to start what IOT is, and how is it assisting the food industry.
What is IOT?  Well, IOT in simple terms is the internet of things. IOT connects things with the World Wide Web which further connects devices with each other. It gives your devices a language of their own, which lets them communicate and transfer important data.
Since we now have clarity of what IOT is, the next question that comes in our mind is, how exactly is it assisting the food business? Well, below, we provide you with a few pointers that might make you wish to develop your own IOT driven mobile app and technology. And of course, it will enlighten you how IOT is bringing a tsunami of changes in the food industry.
Logistics
If you have a chain of food restaurants, you know how cumbersome maintaining raw material stock can get. Keeping track of the food items requires a lot of time and patience. Imagine you being notified every time you run out of some fruit or vegetable, and not just this, you are also made aware of spoiled and ruined raw material!  Reliving, isn't it? Well, this is what IOT does for the food industry. It keeps a track of your raw material and other kitchen material and notifies you every time you are low on stock!
App-based monitoring
The monitoring of raw material is done through applications, and you get the notification on your smart device, like a pop-up message. So it solves out the problem of not being physically present in your food business and still being able to track raw materials and maintain the stock.
Personalization for customers
It doesn't just assist you, but will also provide your customers to personalize their order as per their necessity. A restaurant in London uses IOT to let its customers personalize its food, where the user can even select ingredients and its quantity so that it can intake the amount of nutrients its body requires.
Smart Ovens
Certainly not a new thing in the market but what IOT does to this is something out of the box. You can access these ovens through your mobiles and set the temperature, pre-heat timing accordingly.
Smart refrigerators
It won't just keep a track of your food stock, but will also notify you what is required and by when, and not just this, it will also notify you if there is any stale food in the refrigerator or if something requires your immediate attention.
IOT might seem an expensive option for you in the beginning, but its positive aspects will bear off its expensive side. It won't just add value to your business, but will also ensure minimal wastage of food. It lets you give your customers a more personalized feel with technical up-gradation. We agree it won't ever replace food or drinks, but it will add value to these.