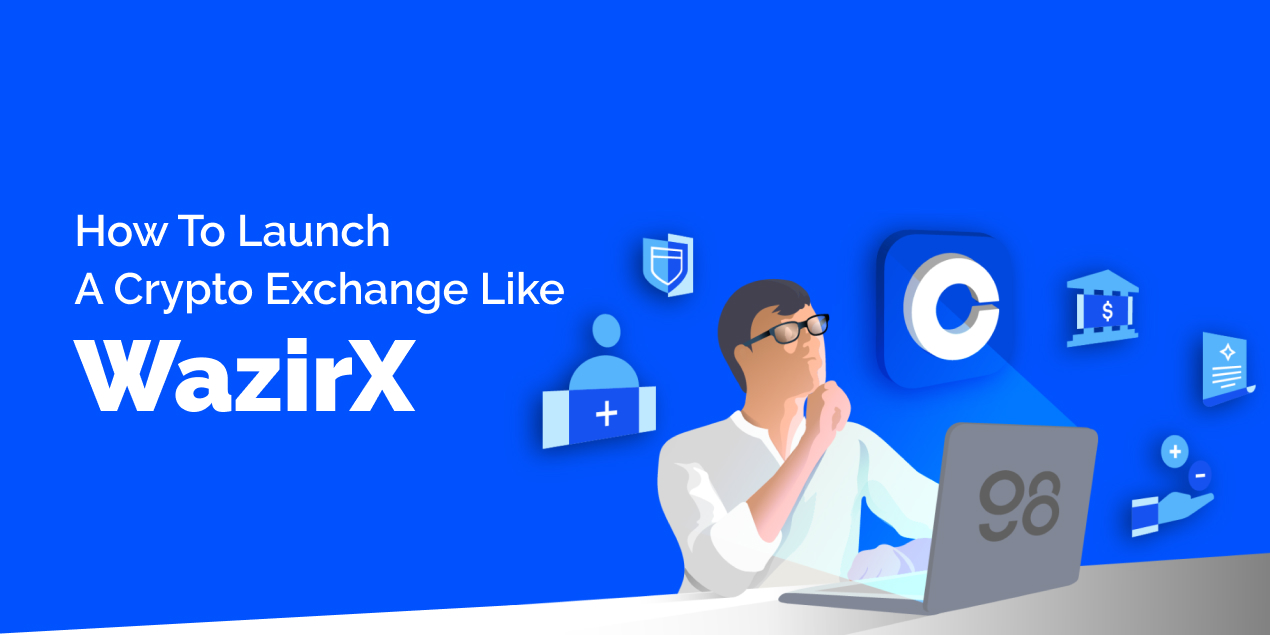 How To Launch A Crypto Exchange Like WazirX
Crypto is booming at a very high rate, and fungible and non-fungible tokens are experiencing rapid growth. Many famous individuals, companies, and brands focus their efforts exclusively on the crypto world. As a result, Crypto exchanges are becoming increasingly important. Crypto exchanges offer services such as converting currencies across platforms. 
Due to the rapidly growing crypto market, crypto exchanges are catching up the pace of demand. The WazirX exchange platform offers strong P2P connection building, making it one of the most robust and reliable cryptocurrency exchange platforms.
A blockchain is a piece of technology that drives the ecosystem of cryptocurrency. For example, over 40 cryptocurrencies are available on WazirX, one of the major cryptocurrency exchanges, and they are available in all major countries. WazirX provides traders with a P2P trading platform on which they can buy and sell crypto directly from one another. Due to WazirX's burgeoning popularity, many people worldwide have been encouraged to create crypto exchange platforms like WazirX.
Here we provide you with the ultimate guide to building a crypto exchange app like WazirX.
About WazirX
WazirX is one of the most reputable peer-to-peer cryptocurrency exchange platforms that let you trade several crypto assets such as Bitcoin, Ethereum, Litecoins, and others. The WazirX platform provides an easy-to-use interface, advanced trading features, and a broad range of exchange services. In addition, the WazirX platform offers the facility of trading cryptocurrency assets through an open order book system.
With a growth rate of 160%, WazirX continues to grow despite the current pandemic, demonstrating the stability of the crypto market and the necessity of crypto exchanges like WazirX in the crypto industry.
Cryptocurrency Exchange like WazirX
Everything that was once deemed "impossible" can now be achieved with the blockchain technology. That's the case with cryptocurrency exchanges like WazirX too. The exchange supports over 40 different currencies. In addition, platforms such as peer-to-peer trading are allowing users to commit trades directly without intermediaries.
Creating a cryptocurrency exchange software like WazirX requires understanding its workflow and the features it holds to offer the finest exchange platform services. Here's how.
Peer-to-Peer
The peer-2-peer platform allows participants to interact directly with each other, make their trades, and trade without going through an intermediary. In peer-to-peer trading, both parties must agree to make the trade. Even though no third party is involved, a moderator might intervene if a dispute arises between two peers.
What does a P2P exchange look like?
Through P2P exchange platforms, traders can directly exchange goods and services. The exchange is not intended to match the buy and sell orders. What it does are match participants who have complementary needs with each other. A P2P exchange involves the sale of goods or services by connecting purchasers and sellers with similar interests. Sellers handle orders on their own and strike an agreement on the transaction. There is no involvement of a third party in this process. When a dispute arises, the arbitrator will be responsible for resolving the dispute.
Create a cryptocurrency exchange platform similar to WazirX
The development of cryptocurrency exchanges like WazirX is a great way to stay in the crypto world for a long time. 
To accomplish that, you need the following:
Multiple Cryptocurrency wallet
It should be possible for cryptocurrencies built using various blockchain technologies to be supported by this wallet. In addition, this wallet should be able to provide a user with an interoperable service that is easy and convenient to use.
Escrow Integration
Escrow integration involves a system in which a buyer accepts the product after it has been purchased and only gets the money from the seller.
High-Speed Trade Matching Engine
The services facilitate a high-speed match between the user's offers and biddings. They rely on algorithms and don't require any personal information.
Stake the coin
By purchasing and staking the coin, the User will have easier access to it for longer periods. As long as the currency is in question, they have the right to sell it whenever they wish.
Atomic Swap
Smart contracts allow users to exchange one cryptocurrency for another without interference from the intermediary.
What are the benefits you get with cryptocurrency exchange apps like WazirX?
With WazirX clone script development services; there are certainly a lot of advantages for businesses. Some of them are as follows:
Efficient payment processing
Business transactions can be processed swiftly without incurring high transaction fees. This benefit extends to both customers and businesses. If you wish to receive or submit the money, it can be accomplished in a few seconds without the need for additional fees. By using this method, businesses can earn high revenue, which they can use to finance operations, expand operations, and more. In addition, the faster the transactions occur, the more likely customers will engage with them. 
Internet of Money
Using the internet, entrepreneurs can transact and pay their bills. Although some other payment methods exist, they come with fees, and a financial institution is responsible for authorizing the transaction. Through crypto exchange applications, businesses have complete control over transactions, and users can utilize them most conveniently.
Cost-Efficient & Secure Cloud Storage
Employ blockchain developers to create blockchain storage apps that act as a secure and convenient way for businesses to collect data, ensuring the appropriate level of security and costs.
There is less chance of fraud
There are a lot of possibilities for fraud when you use credit cards or other banking services. Despite this, because cryptocurrencies are so transparent and secure, there are fewer scams and frauds reported by users and businesses. 
Features that Crypto Exchange Apps need to have
The integrated features heavily influence the cost of developing a cryptocurrency exchange like WazirX. To stay ahead of the competition and gain an advantage, you must include contemporary features required by your users. But what are those features? Let's take a closer look.
User Profile
The user must register on a crypto exchange app to maintain their profile on the platform. Sign-up can be done by submitting details such as name, e-mail address, and phone number or by linking it to another social media account.
Account Management
Upon registering, users can buy and sell Bitcoins directly from the app. In addition, other matters, such as the number of Bitcoins that the user has access to, and the required information, can also be seen by the user.
Secure Payments
Blockchain technology is being integrated into cryptocurrency exchange platforms, so users can make secure payments while transacting with money. As a result, scams and fraud are less likely to occur with this feature. Moreover, users can also keep track of the total amount of Bitcoins sold, the exchange rate, and the amount to be transferred.
Interactive User Interface
Crypto exchange websites or apps must have a very attractive user interface and user experience design so that the users can have an exciting and unique crypto exchange experience. The primary objective of crypto exchange solutions should be to provide smooth functionality by simplifying the app or software before implementing it. As a result, users can create orders, see the history of their transactions, explore the dashboard activities, and swiftly withdraw their funds and deposits.
Trading Engine
For any cryptocurrency exchange platform, the trading engine can be described as the backbone of the exchange platform. As a result, it has a vital role to play in the operation of the cryptocurrency exchange platform.
Daily Updates
One of the main advantages of this application is that all users always have access to the latest information regarding Bitcoin prices and other cryptocurrencies. The users can look at those and buy & trade crypto in accordance with them. Furthermore, apps can tell users about both the increases and decreases in prices, providing the ability to access both the past and the present data.
Balance History & Transactions
In the app, users must be able to see details about past transactions and balances. When developing a WazirX app clone, it is a must consider. Users have access to previous activity records and transactions. In addition, the date and time associated with the money transfer are displayed on the app. 
Real-time Notifications
Users find it very useful since it alerts them to the hottest offers, great deals, and profitable schemes, so they do not miss out on a lucrative cryptocurrency deal. In addition, by using these notifications, users can easily decide whether to buy or sell other cryptocurrencies such as Ripple, Bitcoin, or others.
WazirX Clone App Development Process
Almost all leading cryptocurrency exchange app developers follow a thorough, step-by-step process to develop their apps. As a result, a crypto exchange platform can be developed in the shortest possible time and at the lowest development cost. This basic principle should be adopted as a standard approach at the very outset of developing the WazirX clone script exchange platform. 
Plan the Strategy
Whether a cryptocurrency exchange or an app developer, they're meticulous about platform development. It's all about creating a solution that can take advantage of everything the industry offers. To do that, they need an impactful strategy.
Market Analysis & Planning
To build an exchange platform, it is necessary to conduct market research and analysis. In what areas should the software or app include the most core requirements? What are the key features of a cryptocurrency app that are a must-have? To make your strategy survive in the market, you will need to have an understanding of your market competitors' strategies. 
UI/UX Design
Having finished planning the basic features and requirements of the app, you need to look at its design standards. In terms of its front-end design, you have a lot to do as it must reflect the app's ideology and include features relevant to its functionality and features.
App Development
App development plays a vital role in the overall process. In this stage, everything is designed and developed, and everything is put into operation. Everything relating to the development, from technology integration to platform selection to incorporating features, is done at this stage. 
Quality Testing
Once the development is completed, it must be tested to ensure it works properly. Testers attempt to identify issues with the app's functionality and features during bug testing. Whenever there is an issue, it will be resolved, and a new test will be conducted. This process continues until all errors have been resolved. 
Launch of the app
When all the steps have been completed successfully, it will be time to launch the app in the market and leave a lasting impression on the users' minds with its best performance. For your business to compete with other competitors' apps, all the pre-determined marketing & promotional activities need to be applied for the app launch.
Is It Expensive to Develop a Crypto Exchange Like WazirX?
Throughout this guide, we have reviewed all aspects of the development of the crypto exchange. Several factors must be considered as we start to estimate the price of the Best Cryptocurrency exchange development company. These may include the features of the app, the business models, the user interface, the location and experience of the development team, as well as the price of the app.
These factors can lead us to believe that the development costs of a cryptocurrency exchange like WazirX will range between $20,000 and $50,000. Of course, the price can change depending on what features you choose. You'll get an MVP App with all the exchange core features in this range of prices. Your MVP can be a starting point, and as your revenue kicks in, you can add new features and security layers to keep your app up-to-date.
If you are looking for hybrid mobile app development with iOS and Android functionality that allows you to take advantage of all the advanced features, that will cost a lot more than you can expect. If you are interested in these projects, consulting a professional blockchain company that can calculate an exact estimate according to your needs would be a good idea.
Final Verdict
As a businessperson, going by the trend ensures success. A good example of this is the cryptocurrency industry, which has benefited a lot of businesses in numerous ways. In the digital currency sector, there is a great deal of growth that is unabated. As a result, ventures that offer cryptocurrency apps have become increasingly popular, and people are still eager to invest in this lucrative market.
There is so much opportunity in this industry in the future, and you cannot afford to miss it. We have discussed all the required aspects comprising the cost and essential features of the cryptocurrency exchange app for businesses so they know what it involves. The most significant thing you should do is work with the Best Cryptocurrency exchange development company that can provide you with the kind of assistance you need. If you integrate the right technologies and features into your crypto trading app, you can get high profits and an extensive user base without spending much money.