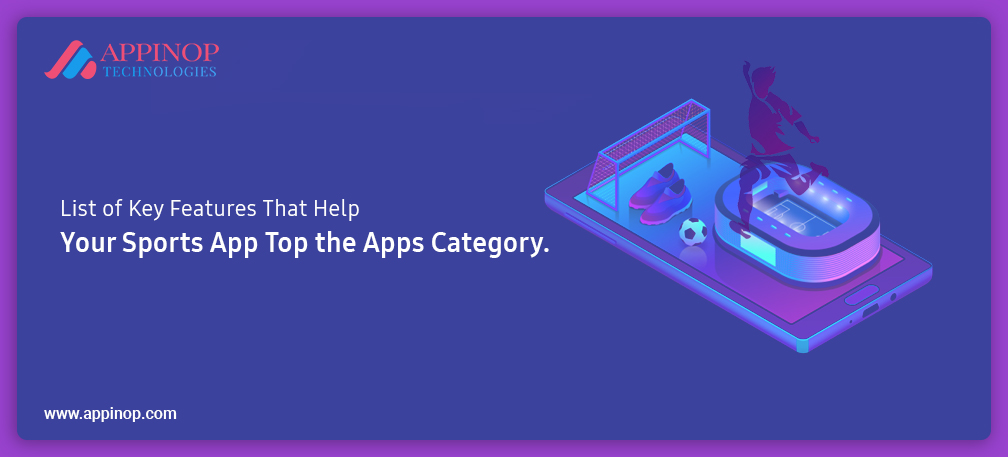 List of Key Features That Help Your Sports App Top the App Category
There are so many sports lovers all over the world, and they always want to stay updated about the live status of the game. But because of the hectic lifestyle, they are always in a hurry and busy every time. By which they don't even get the chance to enjoy their love for the game. But nowadays to break the hectic circle of lifestyle, there are sports app which help these sports lovers to enjoy their sports once again. So are you willing to get yourself the best sports app? I will suggest you go to the best mobile app development company to get yourself the best in class sports app
But before going to the best mobile app development company, you should also know the key features that are important to create the best in class sports app.
You can find the below key features:
It Should Contain Booking and Checking Of Seat Availability
This is one of the main features that you should keep in mind before going to any app development company and demand for making a sports app for you. Your sports app should contain the feature of booking and checking seat availability. So the user can directly book his tickets from your app, and he can also check the availability of the seats from your app for the next game by which your app becomes popular among the sports lover. There are so many other features also, but this feature is the best that you can have in your sports app.
Availability of Highlights
This also the greatest feature that a sports app should contain in it. As you know, we are eating alive by the hectic living condition and we are being busy and always working but can't find the time to enjoy the little things that we enjoy before. Like watching the game live, which we like the most to ease the stress of the day or to enjoy the day with more fun. But nowadays we are so busy with the work that we don't even get the time to enjoy the game and always miss it, but with our smart sports app, you are not going to miss any game at all. Because we provide the best quality high lights of the games that you have missed and you can enjoy it anywhere at work or home on your phone without any hassle.
Push Notification
If you are going to develop the best sports app for you, this is one of the main features that you should need to put in your sports app during your mobile app development process. The feature of push notification is very common in the best apps because they know how to create customers for them. But you are afraid to be pushed back by them. You can do one thing at a time, be afraid of fight your way back in and put this feature of push notification to notify your customer with the upcoming events and make them awake and don't let them miss any game that they want to watch.
Live Updates Of Scores, Stats, And News
You can say that it is one of the essential features that a sports app must use. In this busy and hectic lifestyle, the person is not willing to sit quietly and watch the game they like at ease. They are always doing one thing or another, and with that, they wanted to stay updated about the game also. They wanted to do multitasking and enjoy the game in their way, so you have to give them the medium to do so. You can provide by putting this feature in your sports app. This helps the user to enjoy the game in their way with full freedom and all updates about the game.
Social Media Integration
This feature is so much in the trend nowadays. To become the best sports app, you can go with this feature also. There is always a trend of posting different things on social media to be popular. You can use it to trend your sports app just by the integration of this feature in your sports app the user can put their review after seeing the match on the social media or they can put some event that occurred during the game but not seen by other people on the social media with the help of your sports app. It will put your sports app in the trend.
Chat Feature
You can use the chat feature in your sports app to make it more innovative than any other sports app. By putting a chat option in your sports app, you create a free portal for every sports fan to give their opinion about the match on a very big platform. Because there are hundreds of other sports fans who are also watching the game, and you provide a portal by which every user and talk directly and sharing their opinion with all other users.
Feature Of Adding Favorite Or To Bookmark
The feature of adding a favorite in a sports app is not a common feature you can find in other sports apps. This type of feature helps your sports app to generate more users for it. This feature is unique, and if you put it in your sports app, it is a move we can say thinking out of the box.
By using this feature, the user can add the favorite event that occurred during the match for a good memory that he/she can show to their friends or they can add the most liked sports person by them to the bookmark.
Closing Words
Are you willing to create a difference in the sports industry? So go ahead use these features that are given above in this article for developing the best sports app for yourself. These are some of the best features that you can use to make the best in class sports app that you always dreamed of. The chance is waiting for you to change the meaning of the sports app by using these innovative features and create a difference in your style.
Appinop Technologies
We are a closely knitted bunch of thinkers, designers, developers and investors who are committed to transform the user experience by inventing and reinventing techniques that return high user engagement and increase share ability. Be it Android or iOS Mobile App or an Ecommerce portal, we strive to deliver only the best even if it takes repeated revisions.