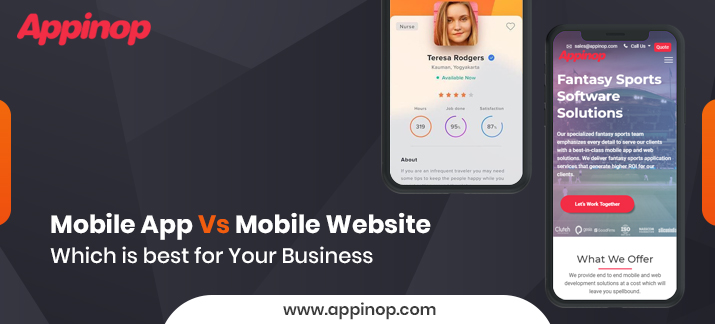 Mobile App Vs Mobile Website: Which One to Pick For Your Business?
Mobile phones are a basic part of our day-to-day life. We can't imagine our life without these smartphones. Ultimately, we can say that the mobile is our life-line. We can do small as well as a big task with the help of cell phones. Mobile apps and websites make these devices even more essential for us. The mobile app proved to become the best marketing tool for your business promotion. It not only boosts your business but also increase your customer base.
Now, Let us know the basic difference between mobile app development service and mobile website development service. Mobile apps are actually applications that are easily available on the app store. You can download them and easily install in your mobile phones. These apps can take data with the help of the internet. While Mobile websites are somewhat similar to any other website that is consist of HTML pages that are linked through hyperlinks.
Still, when you talk about the mobile websites, you will find that the mobile apps are available for those who have installed it, whereas the mobile website is available for everyone on this globe, increasing its scope to the global level.
Here, in this article, we tell you the best method that you have to opt for your business.
Access Methods:
Most of the people prefer mobile apps rather than mobile websites due to their access methods. Apps give faster information by simply tapping on an icon. Apps will work in offline mode also. As apps, basic functions will be work without the internet.
Irrespective of that websites need a faster internet connection for loading its pages that contain access information and it is well known that the access method depends on the speed of the internet.
Communication:
Communication plays a very important role in boosting your business. In mobile apps with the help of push notification and in-app message, you can easily connect or communicate with your users. This is the best marketing tool used by a lot of businessmen nowadays. It can easily drag user attention towards you. Mobile apps directly connect your customers with you. While, on the website, E-mail is used as a communication tool which is basically ignored by the user as they can't even open it.
Based On Security:
Mobile apps provide better security than websites. Apps are easily compatible with the existing security system and provide a high level of security. With the help of mobile apps, you can safely modify share and access data. Opposite to that, websites do not provide such type of security to their users.
As Per Cost and Maintenance:
We all know that better service will require a better cost also. The same pattern is followed here, website development services and maintenance cost are very much low than mobile apps. You can easily create a website but to make an app you require extra efforts. Content can be easily delivered to all devices without any extra work. It is easy to maintain a website rather than an app.
Regular Update:
In case of updating a mobile website, your customers are never hampered as the entire website is updated from its backend. But in the case of the mobile app, your users need to update the app. Hence here the mobile website is recommended over the mobile app. The website can be easily updated and users can continue using without bothering about its update changes.
Conclusion:
From the above points, it is quite clear that both are important in their place. But, as per the business point of view, you have to use the website at its initial stage as it is cost-effective and easy to create. When your business achieves a good customer base, you can develop a mobile app to evolve your business all around the globe.