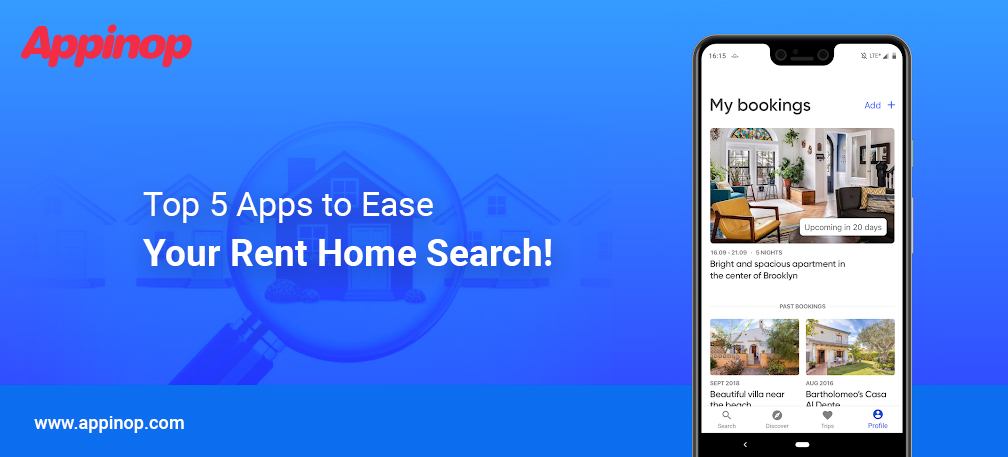 Top 5 Apps to Ease Your Rent Home Search!
Moving to a new city?
Be it whatever reason, moving out of your hometown is never easy. With the ecstasy of shifting to a new place and fear of beginning everything from scratch. It often takes us to a new emotional journey mix with excitement and nervousness. Starting something new is often challenging and involves a lot of struggle. And one such struggle is looking for a place to live in, something we can call home. It requires a lot of dedication from finding a broker to finding a place to live in, it is a journey of its own.
But thanks to the dedicated mobile app developers, who are constantly easing out our life struggles. There are various home rent apps available in the market, which not only has immense potential to grow but also is easing out our life.
We have listed out a few such apps where you can look for homes and rooms to rent. They are easily accessible by everyone and has rooms and homes in almost all the price range.
99 acres
The website portal 99acres.com has shifted to the mobile app with the name as 99acres. This works pretty much similar to the website. It has more than 10 lakh properties registered with it, all over the country. The app is free for Android users and provides high-quality images and videos of the property. It promises instant contact between the property owner and the user through phone calls or emails.
 Magicbricks
This app uses GPS to zero into your location and help you look out for the properties. It facilitates direct contact between the property owner and the user. Though this app is majorly for buying and selling properties, renters can also use it for their own benefit. They can set notifications for when the desired property is available for them.
No broker
True to its name, this app aims at eliminating brokers from the process of renting properties.
What this app does to remove hefty brokerage fees is it let the homeowner list their properties on the app and put them in direct touch with the potential tenants. You can contact the owner directly through the app.
 Flatchat
This app provides a platform where homeowners and potential tenants can share their location and get in direct touch with each other through chat option available in the app. It also lets you sign up to find suitable flatmates to share a rental with. This allows you to jump out of this hassle-free process and connect you with people who have the same budget as yours and have a similar location preference. For now, this app is only functional in Bengaluru, Mumbai, Delhi, Hyderabad, Chennai, and Pune.
YourOwnRoom
This app provides good quality managed homes for millennial tenants which are strategically located from their workplace. They also manage the whole tenant life cycle from agreement creation to move in, stay, renewal, transfer, everything through their app.
Finding a perfect place to rent is not easy, but with home rent mobile apps it is a lot more manageable than it was before. Just a few taps on the screen and you have so many options to choose from.