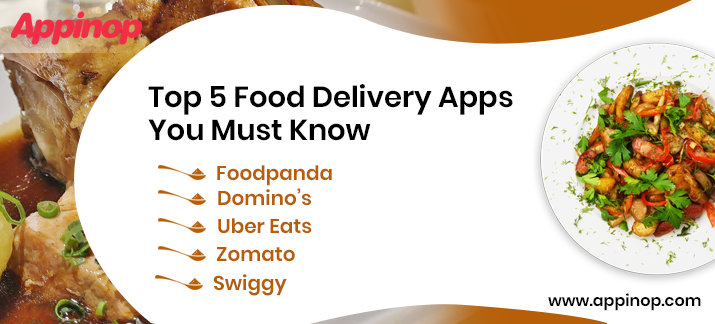 Top 5 Food Delivery Apps You Must Know
In this world of digitization everyone looks for latest tech source to minimize their effort in every task. Whether, it is electricity bill, checking account detail, shopping, ordering food and so on. Today's youth totally depends on mobile Apps for their day-to-day work. Food delivery apps are becoming popular nowadays because a large number of young professionals in the cities have less time to prepare food.
These food delivery application services are helpful for such people. You can easily download these apps from play store free of cost. Register in these apps and order your favorite food. The food will be delivered at your doorstep in just a few minutes.
Here, in this article, we give you detailed information about the top five food delivery apps. So, read this blog thoroughly till the end.
1) Swiggy: It is the high-rated food ordering app in India. It gives instant services to its customers. Your order will be available at your doorstep in just a couple of seconds after order placing. It is popular in the tech city of India that is Bengaluru. It is the topmost food ordering app in India. For better services, it is collaborating with all nearby restaurants.
2)  Foodpanda: As it is easily identified from its name that it is a food ordering mobile app. It is a popular online food ordering mobile app and website. This website gains popularity in late 2015 and now it is operating in 43 different nations across the globe. Headquarter of the company is situated in Berlin, Germany and it started its services in 2012. To provide instant services to its customers, the company is partnered with more than 40,000 local restaurants of various cities.
3)   Uber Eats: It is the prominent online food delivery app in India. Uber is basically popular for its taxi mobile app services across the globe and Uber eats is an enterprise of Uber Technologies, Inc. In India, it operates in all major cities such as Mumbai, Chennai, Bangalore, Hyderabad, Delhi etc. It is easily available on play store and operating in more than 1000 cities.
Headquarter of Uber eats is in San Francisco, California and started its services in 2014.
4)   Zomato: This is the top online food ordering app easily available for Android Smartphones through the play store. It is launched by popular restaurant finder Zomato. In India, it is operating in all major cities. It gains popularity in a minimum time and now it is the competitor of the biggest online food delivery app Swiggy in India. Zomato is basically an online restaurant search platform for mobile devices. It upgrades its services like food delivery in 2008. It is operating in 25 countries across the world.
5)   Domino's: This food delivery app is made especially for pizza. Initially, this site place order through the telephone. But, now it has upgraded its services by converting it as a mobile app. You can easily place your order without calling.
The company provides offers and coupons in festive season to its customers an affordable cost.  Domino's headquarter is in Ann Arbor, Michigan. It is an American pizza restaurant chain founded in 1960.
Closing words
All the above apps are top food ordering apps for your smartphones. You can easily place your order through these apps. Surely, your order will place at your doorstep in just no time. And if you are interested to create one such app for your food delivery business then definitely Appinop is the right development partner.
Connect with Appinop Technologies and invest in food delivery app development services to expand your business and increase your customer footprints. Share your business idea with our experts. We have experienced, creative and dedicated mobile app developers and designers who would deliver your quality food delivery app development services within the agreed time.