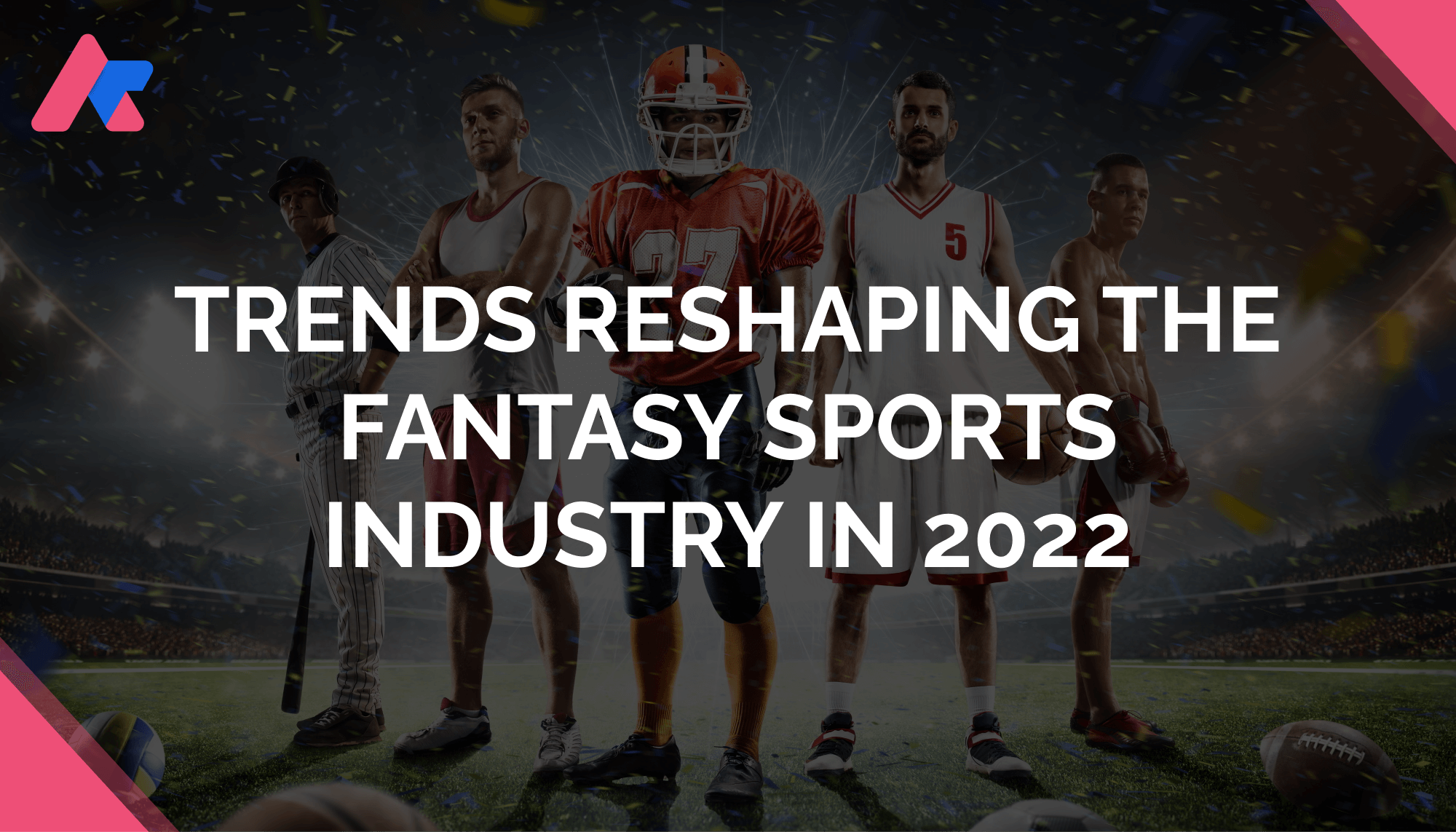 Trends Reshaping The Fantasy Sports Industry In 2022
In the past few years, Fantasy sports have expanded exponentially as technology progresses day by day. The number suggests that the fantasy sports industry is expected to grow to $48.6 billion by 2027 globally. This is due to the expansion of digital infrastructure and collaboration of sports fantasy platforms which have fueled global fantasy sports market growth. The impact of growth has not only been observed globally but in India also.
According to the report, India is the world's biggest Fantasy Sports market with a user base of over 13 crores, which is expected to further grow at a CAGR of 32% in the coming years.
The reason for this sudden surge is due to the increase in user-friendly fantasy sports platforms and internet accessibility across the country.
What is meant by Fantasy sports?
Fantasy sports is an online gaming platform where users make virtual teams of real professional sports players. Users compete against each other's fantasy teams over an entire sports league or individual matches. A user that scores maximum points based on the platform's scoring criteria wins money based on the corresponding performance of real professional sports players.
Transforming the digital ecosystem
Digitalization plays a significant role in reshaping the fantasy sports industry. Undoubtedly, digitalization is ongoing and changes over the day with the expansion of technology. With the rise in new technologies such as Augmented Reality (AR) and Virtual Reality (VR) technologies, NFTs; sports platforms are also transforming and adapting to new changes.
To transform and adapt further, fantasy sports platforms are striving to bring together two opposite worlds i.e.; physical and virtual worlds. To do so, tech-savvy are using social media to engage through live events and to enhance the in-person experience in the digital realm. A few technologies that are being used in fantasy sports are VR and AR. Augmented Reality combines real-world environments with digital information, whereas Virtual Reality creates a virtual environment. Incorporating AR in fantasy sports will boost the application's features and provide an amazing gaming experience to users.
Artificial intelligence is the new normal.
Artificial Intelligence has become an indispensable aspect of every industry, including fantasy sports. With several features such as Speech Recognition, Face Recognition, Computer Vision, Image recognition, and Recommendation systems, Artificial intelligence has caused a 360-degree revolution in the gaming industry. AI-enabled chatbots can also be employed to provide users services around the clock.
5G, Internet, and smartphones
The fantasy sports industry is thriving and growing at scale across the world and in India as well. This is due to the fact of internet-led innovation and the increase in the number of smartphone users.
The new cutting-edge internet 5G technology is on its way to entering the technology world. It is believed that 5G technology will improve and transform the gaming experience of fantasy sports players. This transformation entails optimal data transfer speed and strengthening infrastructure to provide a real-time playing experience to the players. It is safe to say that rising investment in 5G technology will create new opportunities in the online fantasy sports industry. Also, the use of 5G in fantasy sports and its low latency will reshape the fantasy sports industry in 2022.
Increased in investments
Fantasy sport is a lucrative sector for innovation and investment. Investment in the sector has provided ample opportunities for investors from all over the world. Undoubtedly, this has revolutionized the whole fantasy sports industry in the past few years which has led to more job opportunities in India. The Fantasy sports industry is among the fastest-growing industries and has received an investment of $112 million in the past five years. This will be one of the biggest driving forces of reshaping trends in the fantasy sports industry in 2022 and beyond.
Moving Beyond NFTs
During the past few years, NFTs related to sports have gained traction because of the deep-rooted blockchain and cryptocurrency nexus. This has led to a spike in the growth of fantasy sports, ticketing, betting, gaming and collectables. In fantasy games, players secure their money within a game by investing in weapons or collectable tokens, which are further used in the game. These tokens can be used to create, and upgrade new attributes in games, such as weapons, shields, and armor.
How big is the fantasy sports market in India?
Indian fantasy sports market size is quite good with an estimated 13 crore users. This huge number of users has led to a revenue generation of 5,200 crores which is expected to grow up to 1, 65,000 crores in 2025. Certainly, the number indicating fantasy sports market size in India is quite impressive as the return on investment is quite good. It has also opened doors for a new venture.
As per Prashanth Rao, a partner, of Deloitte India, over the past few years, online Fantasy Sports has witnessed unparalleled growth and widespread acceptance among Indian Sports Fans. He strongly believes that FIFS can help the sector unlock its true potential by encouraging responsible rule-based gaming contributing to the development of the sporting industry in India." 
Is fantasy sports legal in India?
Some of you may wonder if fantasy sports are legal in India. Yes, fantasy sports are legal in India as it doesn't entail Betting or Gambling. In 2021, the honourable supreme court of India said that online games involving money but not direct or indirect gambling and betting are legal. Fantasy sports are constitutionally protected under Article 19(1)(g) of the Indian Constitution of Trade and Commerce.
Final Words
As the nation moves toward the digital revolution in the gaming world, fantasy sports have gained immense popularity. People are investing increasingly into it and fantasy sports app development companies are making more profit. If you want to stay ahead of the game and become a Fantasy sports leader do follow the above-mentioned trends reshaping the fantasy sports industry in 2022.