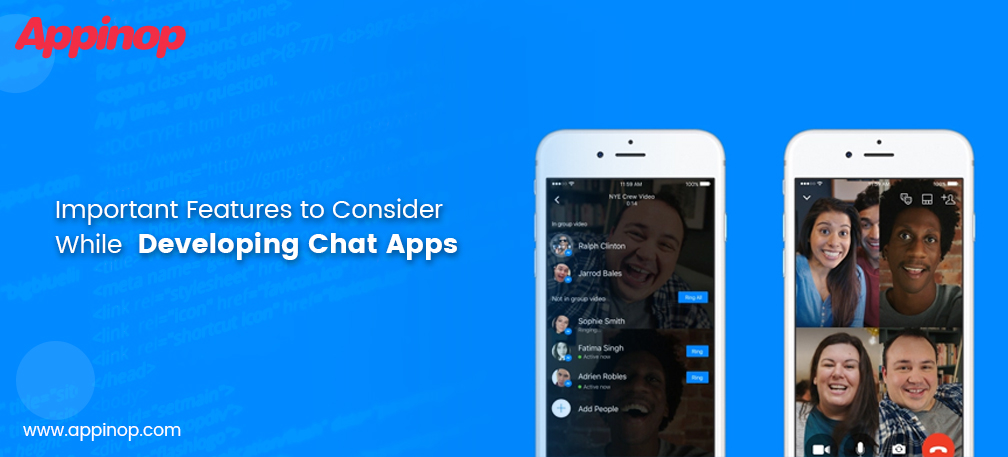 Important Features to Consider While Building Chat Apps
Today, instant chatting apps have transformed the way of communication. In today's digital era, messaging is not limited to just sharing messages. Now, we can share various types of media files such as images, GIFs, audio clippings, videos, and live status.
Let's have a look at some of the must-have features you should consider while developing a messaging mobile app like WhatsApp.
Registration / Login
 Before using chat apps, users need to register via a phone number or email. Post verification, users are successfully registered. Now users can sign in the app and make their own profiles which include personal information and a profile photo.
Integrate Contact List
The next very important feature is the contact list. There is no point in using a chat app when a user does not have a single contact to chat with. So, contact list integration feature assists in importing contact list from the address book. But be sure to build this feature user-convenient and fast. Reason being, larger the friend list users have in their chat app, greater user engagement you will be experiencing.
Custom Profile Creation
 Customized profile creation is a great feature for users to express their persona. In this feature, users can amend names, background colors, fonts and lots more. Upload profile image either by choosing from phone data or take up instant selfie. Even users can show their status such as last login, online, typing text and so on.
Messaging
Messaging feature is the main feature of a chat app. This feature has lots of options by which users can communicate with each other.
Group Chat
This messaging option helps users to invite friends, create a group and can chat with multiple friends at the same time.
Voice Message
This feature is really awesome in which user can send a voice message at any time without typing long texts.
Calling
 Calling feature is a great feature to make a chat app engaging. There are two options- Video calling and Voice calling, by which users can communicate with ease. And users can also do group calls which is even more interesting.
Transfer Media file
Chat apps should not be restricted to only text and emojis. While developing a chat app, the developer should give flexibility in sharing various types of media such as photos, GIFs, stickers and lots more.
Push notifications
The push notification feature is an amazing feature which you should have while building your own messaging app. In today's busy schedule lifestyle, this notification feature informs users for any new message or any updates or when someone from your contact list is online.
Cloud Storage
Cloud storage is an incredible feature which must be implemented while creating a chat mobile app. With this cloud feature, users can store their media files and other conversion histories on the cloud. So, that at the time of emergency, information can be accessed from any device at any time and from anywhere.
Encryption
Well, before heading the encryption feature, first we will know what encryption is. Encryption is the process of securing a two-way conversation by converting the information into a secure code. So this feature is extremely important to save your user's information from data breach.
10. Quick Search
This search feature helps users to have a track on conversations which happened a long time back. Even users can look for past media files.
Wrapping Up
The messaging app is the future. The chat apps are evolving by leaps and bounds. If you have any query regarding cost, complexity or promotion, just get in touch with our experts. We are a top-rated mobile app development company and have delivered tons of mobile app solutions across the globe.