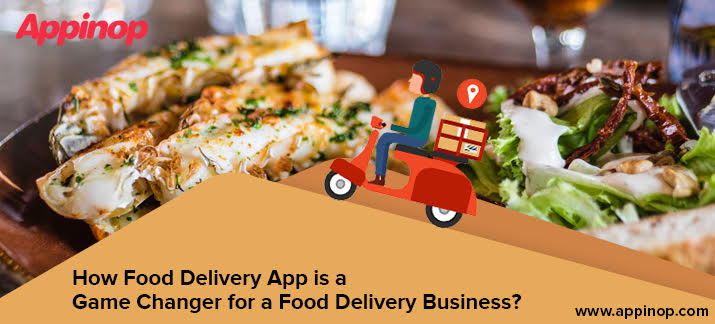 How Food Delivery App is a Game Changer For a Food Delivery Business?
Today everything is online. We even can't imagine our life without technology because our day starts with our cell phones, laptops, computer etc. Using technology for your work, it not only minimize your efforts but also save your time and increase your capacity to do a particular task.
The mobile app is the best way to do your work in a smart and efficient way whether you have to pay your electricity bill, recharge your mobile, check your account detail, book a ticket, ordering food and many more. Online food delivery app gets fame in just sake of time because it benefits customers as well as service providers.
Here, in this article, we are shedding light on some points that prove food delivery app development services are a game changer for a food delivery business.
• Fast and Real-Time Services: A food delivery app gains fame due to its services. If your services are instant and real-time than it definitely increases your customer base. With the help of online food delivery apps, the food delivery business becomes popular among people. It gives instant and real-time services to the customers that save a lot of time of customer as well as service providers.
With the help of a real-time menu feature, it is easy to make changes in the app in real-time that ultimately enhance its services.
• You Can Order Food Easily: Food delivery mobile apps mainly focus on the user-friendly scenario. Its User Interface is very convenient that provides a smooth and quick ordering experience for customers. These apps also provide a drop-down button which helps customers in choosing the location as per their requirement. The customer can easily select their city and nearby restaurant before placing their order.
• Notification Facility Is Also Available: This feature of the food delivery mobile app development  increases the online food business. The customer trust would certainly be increased when your customer gets push notification after placing of the order. Notification allows service providers to send and promote their latest deals, offer and discounts directly to customer cell phones. Basically, notification is used as a marketing tool in the food delivery business.
• Convenient Way for Food Ordering: Placing order with the help of the app is highly convenient for customers. With the help of these apps, the customer can easily select their services as per their requirement. You can easily install these apps from play store and start your order by simply register in the app. You can easily order your food by selecting a nearby location and your food will be at your doorstep in a couple of minutes. Mobile apps also provide you with a secure platform and provide you with a hassle-free service.
Closing Words
All the above points certainly show that mobile app is a game changer in the food delivery business. Are you looking to invest in food delivery mobile app development? Do you want to take your food delivery business to a greater height? Are you thinking to refine your customer experience? Do you have any online food delivery project idea? If all our queries are making a "big YES" at your end, then definitely you could share your project idea with our business team. Appinop has a great functional and technical team to understand your business ins and outs and thereafter our technology team develops and delivers quality services within schedule time.