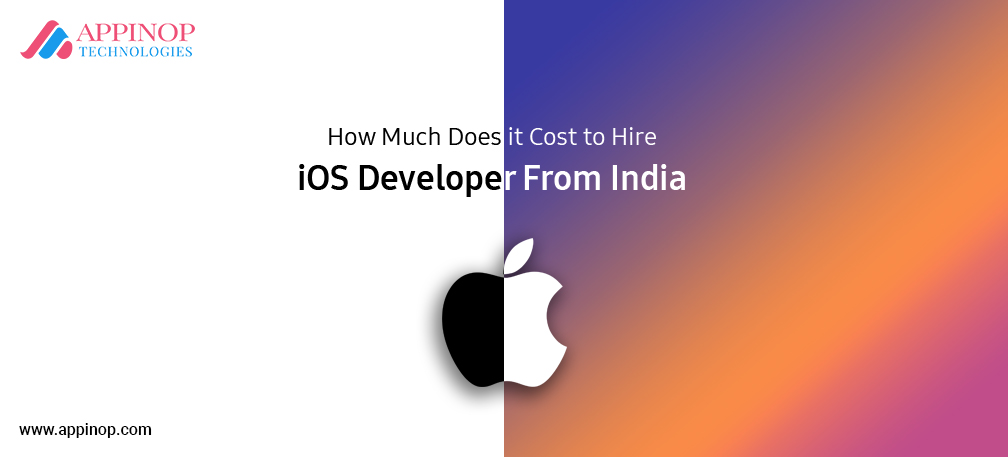 How Much Does It Cost to Hire iOS Developer From India?
iOS essentially is the mobile operating system that Apple uses for its iPhones, iPod touch, and iPad hardware.  The resources required for the development of the various iOS apps and accessories are also taken care of by Apple. There are some native languages like Objective-C or Swift, which are used primarily for the development of iOS Apps. The other option is to build cross-platform applications, which are also native to it, using Xamarin (C# and F#) and React Native (JavaScript).
The interesting thing to know is, as per the reports of App Annie, the mobile phone market will reach a whopping $101 billion. So it is safe to say that the mobile app industry is the place to be right now if you have the skills or interest in it. If iPhone Application Development is your domain of interest, or if you are looking to hire iOS Developers, read on.
The Benefits
Before venturing into the world of iOS development, it is always good to know the treats:
• Advanced security – iOS app development provides a rather high-end security layer, which attracts a lot of those enterprises, who have sensitive data that needs to be protected. It provides security against :
• Data theft
• Data duplication
• Encryption
At the same time, it maintains the identity of users, the privacy of data, as well as the app data stored in the cloud.
• Better experience of customers – Talking about happy customers, iPhone app users are definitely happy as far as their experience with iOS apps are concerned. The incredible hardware, impeccable customer support as well as the smooth functioning of the software are reasons enough to be happy with iOS apps. Where a lot of Android apps are known to work better in only some selected phones and models, iOS app users are always sure of the fact that the apps that they download from the Apple store will undoubtedly work like wonder in their phones.
• Flexibility in User Interface – The apple devices are already known for their synchronized environment, and therefore, the apps also don't turn out to be very complicated for the existing iOS users. The user preferences are already known to the mobile application development companies, and to boost the sales becomes much easier as a result.
• Higher ROI – Development of iPhone apps is one significant way to gain a higher Return on Investment. If success is what you are looking for, iOS application development will definitely help you move towards it.
Reasons why you should hire iOS developers
If you own an enterprise of your own and if you are looking forward to taking it to greater heights, you definitely need to develop an app for your business, and it is always a good idea to hire developers, especially if you want your app on the iOS platform.
Here are a few reasons why it is a good idea to hire dedicated iOS developers:
• Expert iOS developers help you leverage your USPs, thus leading your enterprise towards attracting more and more customers and, thereafter, increasing the sales.
• We know that the competition between Android and iOS is very tough, and it becomes rather tricky, keeping up with the massive number of Android apps invading all over the app market. However, it still goes without saying that iOS apps fetch more revenue than Android ones. iOS offers updates regularly to its clientele, and they are, of course, happy with the best!
• If your iOS application developers are experienced, they will know how to integrate the user experience of the traditional web applications and that of the desktop apps. Their knowledge base will, of course, be beneficial to you.
Cost to Hire iOS App Developers in India
There are several factors, which will determine the cost you will have to bear if you want to get the app for your enterprise developed on the iOS platform. There is an approximate rate for which you can hire iOS developers in India, and that is about $25 per hour. However, the rates may increase or decrease based on the following factors:
• The complexity of the app
• The features that you want to be integrated into the app
• The deadline
• Any specialized integration that you wish to
However, if you are looking to hire developers, you would probably look for the best Mobile App Development company to cater to your needs. In such cases, the companies would have a dedicated team of professionals, and in that case, the cost would increase in the entirety.
Considering the incredible advantages that the iOS platform offers, this looks like quite a cakewalk, especially if you want the best services for your enterprise. So, without any delay, hire dedicated and proficient iOS developers and see your efforts yield magical results!
Appinop Technologies
We are a closely knitted bunch of thinkers, designers, developers and investors who are committed to transform the user experience by inventing and reinventing techniques that return high user engagement and increase share ability. Be it Android or iOS Mobile App or an Ecommerce portal, we strive to deliver only the best even if it takes repeated revisions.