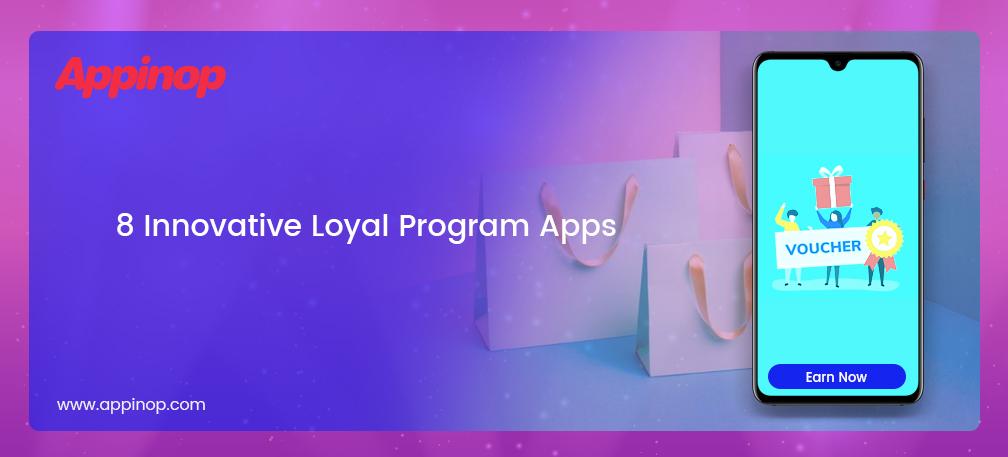 8 Innovative Loyalty Program Apps!
As per a survey, 84% of consumers said they are more likely to stick with a brand that offers a loyalty program. And 66% of customers admitted that the ability to earn rewards actually change their spending behavior.
This undoubtedly makes loyalty program as one of the most effective tools in the retail marketing toolkit. It is an important instrument to hold on to existing consumers and show them how much your business values them. If you are still not sure about opting for a loyalty program app, you should check our previous blog to clear out your doubts.
In this blog we will guide you through the types of loyalty program you can opt from.
Reward points
The best way to guerdon your users is to develop a loyalty app with reward feature. You can give them certain points or rewards for doing a certain number of transactions. They can use these rewards than to opt for some service or product. The best example of this reward system is North face's VIPeak which provides you points after every purchase and other unique ways, like attending North face events, checking in, at certain locations, downloading their app and other such. And when it comes to the time of redemption, users can redeem the points to experience some unique traveling like mountain trekking in Nepal.
Discounts
One other way to attract your users towards your app is to provide them discounts after they reach certain purchasing limit. May be like, on the purchase of $80, get a discount of $10 on your purchase. This discount will prompt users to spend more.
Pro tip: If you customize these discounts and loyalty program redemption as per users, with their name on it, they are more likely to spend a certain amount.
Gamify your app
Make your app more user-friendly and interactive. Gamifying the app is one such way to engage users with your app and you can reward them for the same. You may opt for one of the following options or maybe try a mix of these few.
-You can set a few achievement levels and after a user crosses one certain level you can reward them with some discounts or schemes. This will hold users towards your app and will keep them engaged.
-You can also give a certain status to the people, which will keep on improving with time and user engagement. Status improvement will give them a sense of accomplishment and push them towards to achieve a bigger status.
-Badges are also one way to improve user engagement. The more they shop, the more badges they can earn. And you might club it with rewards and surprise users on certain occasions.
-The leader board can also be proved as a good user engagement tool. The more a user shop, the higher they will be on the leader board, and you might inculcate options like higher on the leader board will lead to more discounts. This is an excellent way to reward users for their loyalty towards the brand.
Special perks to loyalty customers
The best example to explain this one is Amazon prime. The way Amazon is using prime to add members and providing them with special deals is a trick to learn. You can use something similar for your business and provide your members with more benefits than those who are not your members.
Tiers of rewards
Used by DSW (Designer Shoes Warehouse) is giving us major inspiration to use in our loyalty apps. It has mixed rewards with levels. What it is doing is creating tiers for the purchases, with more purchases you will reach higher tiers and which will give you more benefits. We have to admit, such a smart way to indulge with users and promoting them for more purchases.
Social media rewards
If you want to learn how to use social media smartly to improve your business, we highly suggest you check Tarte's marketing strategy. They are using social media to engage with users and rewarding the users for this. They are prompting users to post makeup videos by using Tarte products and then rewarding them for this. This way they can show new users how to use Tarte products without investing extra money.
We have just one word for their marketing come loyalty program strategy 'Hats off'.
One for one
So, this is a strategy used by TOM's, what it does is it contributes almost the same quantity products as the user does for a cause. In simple terms, whatever you are contributing, they will contribute almost the same product. This is an intelligent way to convey a social message to the people and awaking them for the same.
Pool off rewards
This is one technique that has gained major popularity among users. A few brands club together in this and then the user can shop from these and gain rewards for every purchase from either brand. The user can redeem the points at any store as well.
So, these were some really popular loyalty app features big brands are opting for. You can also contact experts and develop a loyalty app for your business. We still cannot emphasize enough on how much loyalty apps can upgrade your business and build user trust. You can also check statistics for this here.