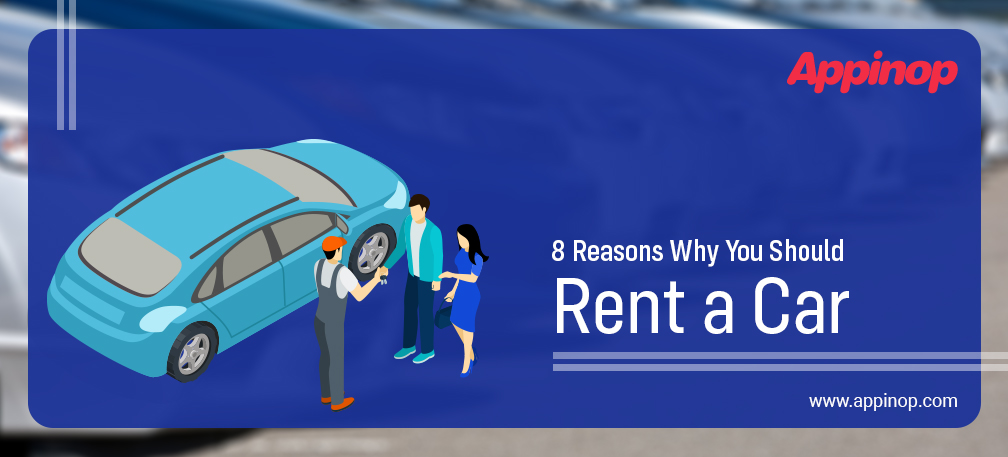 8 Reasons Why You Should Rent a Car!
Having a car has always been a golden dream for many of us.  But this hustle bustle of the city life and never stopping journey makes it a hard dream to maintain. But, not so hard, when we can rent a car, why do we need to buy one?
In the metropolitan cities, where people don't have a proper space to live in, maintaining a car is a cumbersome task. So the next smart thing to do is rent a car! And with technological advancement we don't even need to run to the nearest car renting office and bear the car booking pain it brings at times.
Where everything is shifting on applications, renting cars are no exception. Mobile app developers in the industry are coming up with new features every day to make our life easier and renting cars a more comfortable process. Renting a car is now as easy as ordering food online, all you have to do is access the renters' application and follow the basic instructions it provides. We assure you it won't take more than a few minutes.
Just to provide you with a more elaborated picture of why renting a car is better than buying one, we have listed out a few pointers :
Saves money
First things first, this is one of the reasons why renting a car is better than buying one. You don't need to spend on car maintenance or other such expenses. To rent a car, the only expense you will incur is petrol charges and renting charges. There generally ain't any other charges. Saving you a lot of money.
Saves time
Of course, it saves a lot of your time. You can book a cab in minutes and they will deliver the car at your doorstep. It minimizes the time invested and ensures fast delivery of the car.
No parking issues
No car, no parking issue. Well, isn't this one of the major reasons for us metropolitan people? When we are running out of places to park our vehicles, the thought of owning one scares us. Well, renting cars help us save from this trouble and a lot of other troubles.
No Cumbersome paperwork
While renting a car, all you need is to give them a copy of your photo proof and maybe a few basic paperwork. But it is far easier and less cumbersome than buying a car. It is easily understandable and way faster.
No hidden charges
Generally, there are no hidden charges and almost all the charges are communicated during renting the vehicle. And this obviously makes renting a car a reliable option.
Breakdown assistance
In case of a car breakdown in the middle of nowhere, on the road car breakdown assistance is a feature that the apps generally have. Assisting you in such circumstances which otherwise is not possible if you own your own vehicle.
Cars as per accordance
The best thing about renting a car is you can opt for the car which suits your necessity. If you want a car for a vacation with your friends, you might want to get a big van, whereas, for formal business meetings, you can opt for more of a luxury car! Buying your own car limits such options for you.
Testing car
Well, this is more of a cheat code. If you are thinking of buying a car and are unsure about its features and functionality, rent the car! get a hand of it. And you will have your answers while buying your car.
Mobile app development has transferred the way the world looks and do things. These car rental mobile app developers manage the hustle bustle of city life with a comfortable life for its users, renting cars through a mobile app is one example of such an extraordinary invention.