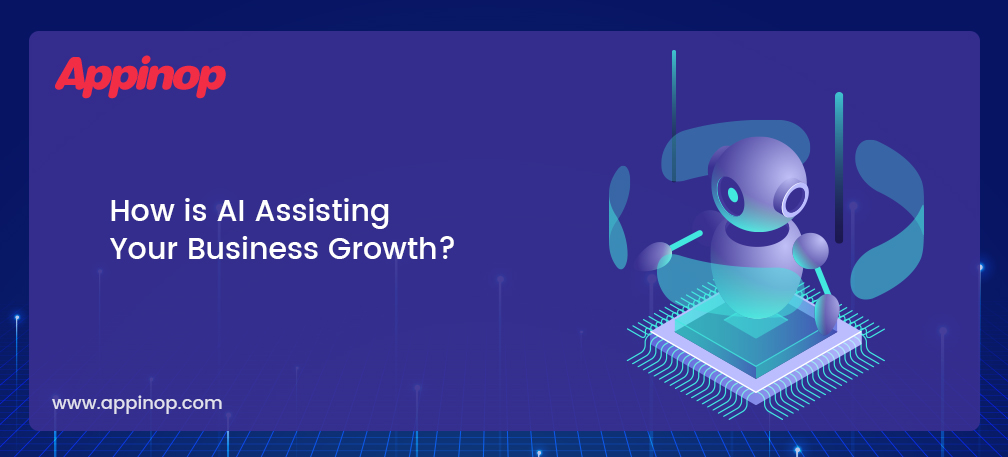 How is AI Assisting Your Business Growth?
AI is not something hidden in a closet and waiting to be explored, it has started to spread its wings, and has already covered a major portion of industries. From the automobile industry to online shopping portals to consumer grief cells, everyone is taking the shelter of AI to grow their business.
Don't trust us? Read the facts we have listed down below, and you will trust us.
As per new research done by Accenture if a business completely inculcates AI in its working, it holds the potential to increase business' profitability by 38%.  As per another study done by MIT technology, 600 executives out of 18 countries surveyed 90% of them admitted their company uses AI to enhance the customer experience.
If we go by the words of Merijn te Booji, Chief marketing officer of Genesys, "Business win big when they deploy AI to handle simple, repetitive tasks, saving Human resources for more complicated or emotional customer needs". He made this statement in a press release.
We are sure, by now you are convinced with our words. Now let's dive right into the reason why you clicked on this blog, 'How is AI assisting business growth?'
Consumer Preference
We know our business houses are nothing without consumers or clients, no matter which industry you are dealing with, you can never ignore consumers. And hence, undoubtedly, this is one point we wanted to highlight the most. From Netflix to Amazon, to Uber, all the big businesses are using AI to improve user experience. Where Netflix is using AI to suggest you movies and shows as per your test, Uber is using it to allocate the closest cab to your location. AI takes user experience to another level and saves a lot of their time. And you know what good consumer experience means!
Price fixation
Now, let's look at how will AI impact your business directly. If you are developing an AI integrated mobile app, you can use it to fix your product price, which will lead you to make maximum profit under any prevailing situation. This will also help you in deciding how much discount will make you hold on to a deal, and not lose clients at the same time. How will it work? It will use previous transactions and dealings and arrive at a conclusion based on the same. Smart, isn't it?
Learning made easy
You can use AI for the inductions or orientation of new employees, or if your company is launching a new technology, AI can be proved as a big help. From teaching employees their way around the new technology to solving their issues, AI covers it all. What you need to do is direct the AI, and you are all set to go.
Automated Ad placements
Ever wondered how accurate google ads are? From suggesting us what exactly we have been searching for, lately! How are google ads so on point? Well well, it is nothing but the magic of AI. Through cookies, AI curate advertisements to be displayed on your screen, exactly as per your preference, what you have been looking for or stalking lately. This helps business houses to get to their targeted audience and sell their products accordingly. If used properly, this feature can increase your business by leaps and bounds.
Chatbots for customer support
You cannot put so many human resources in entertaining consumer queries. Using AI in such a situation comes very handy. It will help you in consumer support if the queries are basic and can be resolved by AI, and if it is something AI cannot resolve, well then you can use your human resource. Imagine how much human energy will be saved if AI started resolving basic consumer queries. It can also filter queries as per their departments and urgency. And you can always use the extra manpower in something more productive.
Making our life easier, isn't this the motto of technology? With the help of AI integrated apps, your business will see new heights. Your business won't only have an HR department, but will develop itself into a HAIR (human artificial intelligence resource) department. Managing HR and AI of the business at once. Isn't this exciting?? Well, we certainly believe it is, seeing tables turning, people relaxing and technology dancing on our fingers.