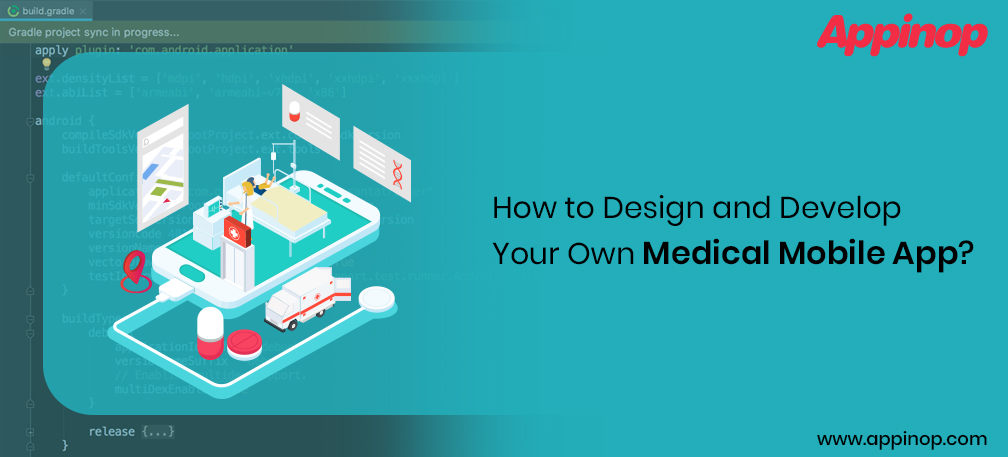 How to Design and Develop Your Own Medical Mobile App
Medical apps have made our life really easy by providing everything on the tap of our fingers. Whether it is medicines or prescription of some medical issues, these apps cover it all. There are various app development firms in the market who help you get a real picture of these apps. If creating such apps interests you or you wish to know how apps are created, read on to find out.
Related article: 4 medical apps you need to have
Advance development planning
Creating an app requires some advance preparations as well to smooth down the app creation idea. Below are a few factors you need to consider before  building a medical mobile app.
Map down your idea:
You don't want to start creating your app on an abrupt basis. Mapping down your idea will guide you in the process of creating the app with a clear picture in the mind.
Know your platform:
Once the idea has been drafted you need to have a clear idea about the kind of platform you wish to use. You should be completely aware of these platform's pros and cons.
Design:
You need to decide on the design of your app, whether you want it to have basic, moderate or advanced designing. It also covers the API connectivity of your webpage with your app.
Tie-ups:
Now, you are done with deciding on your designing and basic features of the app, it is time for the tie-ups with hospitals or doctors. You need to decide on your target clients. Whether you want to connect individually with doctors or you wish to approach hospitals as a whole. You can also opt for adding pharmacy stores in the app.
Feasibility:
Now is the time to check the feasibility of the idea, economically as well as its practicality. Don't go for ideas that are practically not possible and only sound pleasing to the ears.
Market research:
If you are thinking of capturing a niche you need to do a complete market research about how the users will react to one such app. But if you wish to enter an already existing market, check on with competitors, observe their moves and find out what is new you can bring to the market.
Webpage creation:
You can create a webpage for your app to create interest among prospective users. A promotional webpage can include your introduction, about the app and a video explaining what app is all about. Try to create a webpage which can hold users interest. You can also send newsletters to early subscribers of the app.
Once this advance planning of app creation is done, you need to analyze the costing. There are various investments you need to make in order to develop the app. But if you ask us to give you an idea about how much it cost, we might not be able to help you in this regard. Spending in app creation is like buying a car unless you are not certain about the model of the car, you cannot get the pricing of it.  Wherein a few of these costs are non-negligible, some of these can be avoided or at least minimized by careful analysis.
Few of the cost determining factors are:
Launching platform:
All these platforms charge a certain amount in order to launch an app. Whereas Android is a cheaper and feasible option, iOS costs you more. One careful analysis needs to be done here.
Login access:
Do you wish your users to log in or sign up to your app. It will cost you some additional investment. But since you are opting for a medical app we will suggest you to this feature. It won't only help you recognize the user but will also help to store their medical and personal details safe. You need to have users' medical history in order to recommend them to the specialists and connect them with each other.
Storage:
Now you need to have a storage option in your app either on cloud or in the device storage. Wherein both the options will cost you different, you cannot avoid this feature. A medical app requires users' history to help them properly.
E-wallet or payment gateway:
For a consultation with experts, users might need to pay a certain amount to you. So it is completely your call to keep your personal e-wallet or to opt for some other payment gateway. Both will cost you different.
Design:
Designing holds the power to burn a hole in your pocket. But it is something you cannot ignore. If you are an individual developing an app you might need to hire a graphic designer to give your app a professional look. But if you are teaming up with an app developer, you are sorted in this respect. These firms might cost you more but will provide you the best results.
Now is the time for finally creating your app. After putting so much effort into doing pre-research you may begin the app development. Below are a few pointers to help you in this respect.
Language:
If you wish to create an app on android you have to take shelter of java. But if you are aiming for iOS or macOS or some similar platforms you need to be thorough with Swift.
Create a mockup:
Once your app is starting to take shape, create its mockups to see how it looks like. Mockups help you in focusing on important details and not distracting you by unnecessary ones. You can use these mockups to promote on your webpage or sending its screenshots to early adopters. Balsamiq mockup is one of the destinations that will help you get a mockup without putting you into so much trouble.
So, these are a few basics we will advise you to focus on. If you are an individual you might want to take app developer's help. Developing an app can be a cumbersome task but the end results make it all worth it.